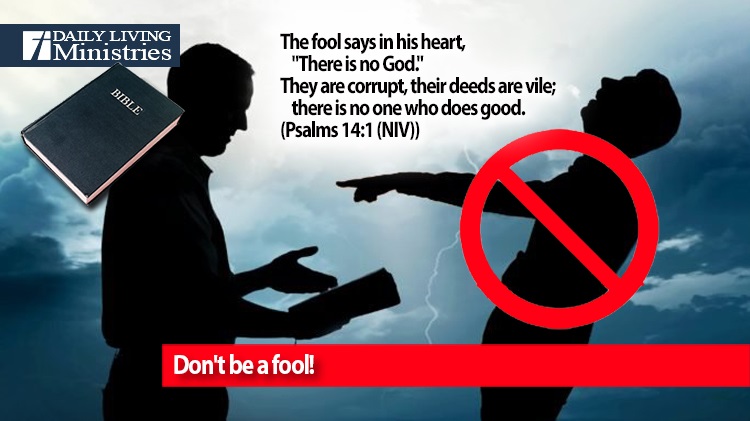 Be Still . . .
Devotionals for Daily Living ©
The fool says in his heart,
     "There is no God."
They are corrupt, their deeds are vile;
     there is no one who does good.
(Psalms 14:1 (NIV))
Is it just me, or do you think that we are seeing an overabundance of fools in the world right now?
Based on God's definition from this passage, there are far too many fools in the world and they just seem to be increasing in numbers daily! Is it possible to equate God's definition of a fool and the concept that evil will increase in the last days? We know that the wheat and the weeds will grow up evenly during these times. Are we seeing a growth spurt of weeds right in front of our eyes?
Every person who has ever lived has had a choice to make. Adam and Eve believed a lie from the serpent and fell from grace. They made the wrong choice. Cain and Abel had a choice to make. Cain made the wrong choice. All of the people alive except Noah and his family made the wrong choice. I could go on and on with example after example of how fallen humanity has constantly made the wrong choice.
Even after God sent His Son Jesus to redeem us from our sin, people still make the wrong choice!
I can't stress this enough. Every single one of us has a choice to make. We can accept God's grace as freely given through the gift of His Son Jesus or we can reject that gift. There are many reasons why people reject God's grace. Some believe one of many lies from the enemy such as God won't save them or that they have plenty of time to accept Jesus. These are the people that have a misunderstanding about God. It is a slippery slope from there to denying God. Sadly, many will fall into the group that God calls foolish.
Do you know anyone in this category?
Are you in this category?
What do you think of Jesus and the cross?
For the message of the cross is foolishness to those who are perishing, but to us who are being saved it is the power of God.
(1 Corinthians 1:18 (NIV))
If you look at the passages that talk about being a fool or being foolish, they reference a hardened heart that rejects God and/or His plan of salvation through Jesus.
Don't be a fool!
Copyright 1998 – 2022 Dennis J. Smock
Daily Living Ministries, Inc.
https://www.dailylivingministries.org
Support Daily Living Ministries
Subscribe to daily email delivery
Visit us on facebook