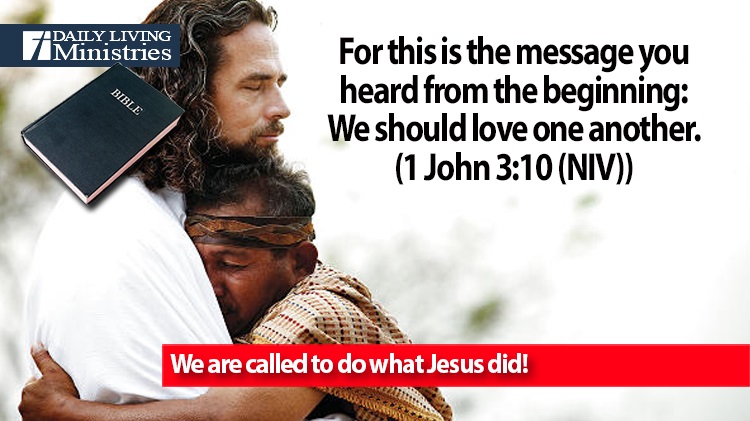 Be Still . . .
Devotionals for Daily Living ©
For this is the message you heard from the beginning: We should love one another.
(1 John 3:10 (NIV))
The word "should" is used to express a command, an obligation, or something that is expected. Does this change the way that you read and understand this passage? Think about that in context. We use the word "should" so frequently that perhaps we have lost the understanding of what it means. Let's try a little word replacement in the last sentence and see if that helps to strengthen our understanding.
We are commanded to love one another.
We are obligated to love one another.
We are expected to love one another.
Do these express a stronger sentiment than "We should love one another?" Our society has come to understand the meaning of that word to be something closer to the following scenario. It is suggested that we love one another, but I don't think that we really need to. Is this how you have read and understood this passage? Is it nothing more than a simple suggestion that we can take or leave? If that is the case, then I truly am beginning to understand the state of the world. Each of us are so engrossed in our own little lives that we fail to realize that the whole world is in the same predicaments that we find ourselves in. We have accepted Jesus as our personal Lord and Savior, but we fail to recognize that it is up to us to share Jesus to a lost and dying world. We don't go out of our way to show compassion to anyone. We run full speed ahead and ignore all of the hurting people that we encounter.
What did Jesus do?
For the Son of Man came to seek and to save the lost."
(Luke 19:10 (NIV))
Jesus saw the brokenhearted. He saw the outcast. He saw the sick and the dying. He saw the lost. He did not simply barge past them. He saw them and He had compassion on them. These people weren't a hindrance to His ministry. They were, and still are, the sole purpose for all that He did.
And, . . .
We are called to do the same!
Very truly I tell you, whoever believes in me will do the works I have been doing, and they will do even greater things than these, because I am going to the Father.
(John 14:12 (NIV))
We are called to do what Jesus did!
Copyright 1998 – 2022 Dennis J. Smock
Daily Living Ministries, Inc.
http://www.dailylivingministries.org
Support Daily Living Ministries
Subscribe to daily email delivery
Visit us on facebook