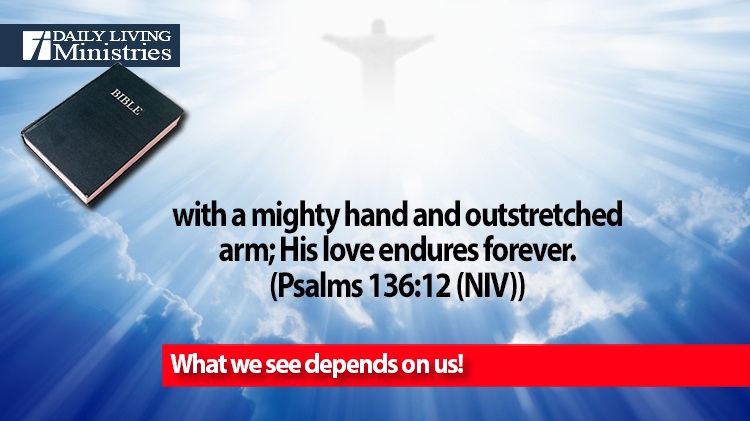 Be Still . . .
Devotionals for Daily Living ©
with a mighty hand and outstretched arm; His love endures forever.
(Psalms 136:12 (NIV))
Have you ever stopped to reflect on what appears to be a contradiction between being mighty and being loving? And, what do you envision when you read about outstretched arms? Do you envision a loving embrace or are they outstretched to show His might? How could what appears to be two completely polar opposites be used to describe the Lord our God?
That is a paradox that many people struggle with, and probably why many people fail to recognize God's grace and mercy. They have been taught that either God was a vengeful God and they have trouble with Him being able to love them, or they have been taught that God is love and they then have a problem with His mighty hand and outstretched arm.
Do we have a hint as to how this so-called duality can be true? He loves those who love Him!
Know therefore that the Lord your God is God; he is the faithful God, keeping his covenant of love to a thousand generations of those who love him and keep his commandments.
(Deuteronomy 7:9 (NIV))
We also see what happens to those who are not true to Him, who do not love Him.
Love the Lord, all his faithful people! The Lord preserves those who are true to him, but the proud he pays back in full.
(Psalms 31:23 (NIV))
Perhaps if we look at our sinful nature, we can see see just how much God loves us while still maintaining a mighty hand.
for all have sinned and fall short of the glory of God,
(Romans 3:23 (NIV))
For the wages of sin is death, but the gift of God is eternal life in Christ Jesus our Lord.
(Romans 6:23 (NIV))
We have been condemned by our sinful nature, yet, out of His enduring love, we have been given a gift of salvation, mercy and grace.
For God so loved the world that he gave his one and only Son, that whoever believes in him shall not perish but have eternal life. For God did not send his Son into the world to condemn the world, but to save the world through him. Whoever believes in him is not condemned, but whoever does not believe stands condemned already because they have not believed in the name of God's one and only Son. This is the verdict: Light has come into the world, but people loved darkness instead of light because their deeds were evil. Everyone who does evil hates the light, and will not come into the light for fear that their deeds will be exposed. But whoever lives by the truth comes into the light, so that it may be seen plainly that what they have done has been done in the sight of God.
(John 3:16-21 (NIV))
Just as in any human relationship, we will either see anger or we will see love. Just as we know that a coin has two sides, we also must recognize that God's might or love are both part of His being.
What we see depends on us!
Copyright 1998 – 2022 Dennis J. Smock
Daily Living Ministries, Inc.
http://www.dailylivingministries.org
Support Daily Living Ministries
Subscribe to daily email delivery
Visit us on facebook