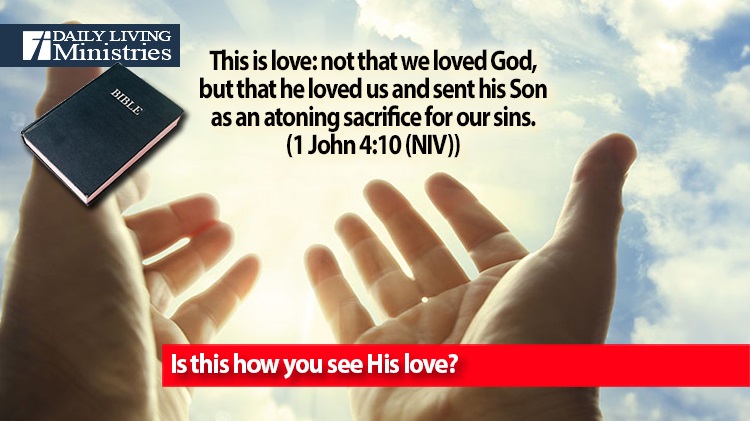 Be Still . . .
Devotionals for Daily Living ©
This is love: not that we loved God, but that he loved us and sent his Son as an atoning sacrifice for our sins.
(1 John 4:10 (NIV))
What good does it do to love someone if that love is not returned?
If you have trouble with this question, then all that you need to do is remember back to middle school and high school. I am sure that every single person has had such a thing happen to them during this tumultuous time in your life. We have all experienced what we thought was love only to be ignored by the one whom we expressed feelings for.
Is God like that?
For God so loved the world that he gave his one and only Son, that whoever believes in him shall not perish but have eternal life.
(John 3:16 (NIV))
God reached out to us first! He showed His love for us and gave us something amazing if we would only repent and love Him in return. Everything that we have is because God loves us enough to not leave us where we are. We were sinners in need of a Savior, so He sent His Son. There is no record of anyone ever being able to go to God and make a deal with Him. There is a record of God coming to us and making a deal with us. God's deal bring salvation. God's deal bring life and love. God's deal is readily available to anyone who will accept. Accepting God's deal means accepting His love. It means accepting His grace and mercy. It means accepting His plan of salvation for you.
It is as easy as ABC.
A is for admit that you are a sinner in need of a savior.
B is for believe in your heart that Jesus Christ died for your sins, was buried, and that God raised Him from the dead.
C is for call upon the name of the Lord Jesus.
Our love for God could never do what His love for us has first done. Out of love, He reached down to lift us up. Out of love, He calls us His children. Out of love, He gives us something that we cannot get for ourselves.
Is this how you see His love?
Copyright 1998 – 2022 Dennis J. Smock
Daily Living Ministries, Inc.
http://www.dailylivingministries.org
Support Daily Living Ministries
Subscribe to daily email delivery
Visit us on facebook