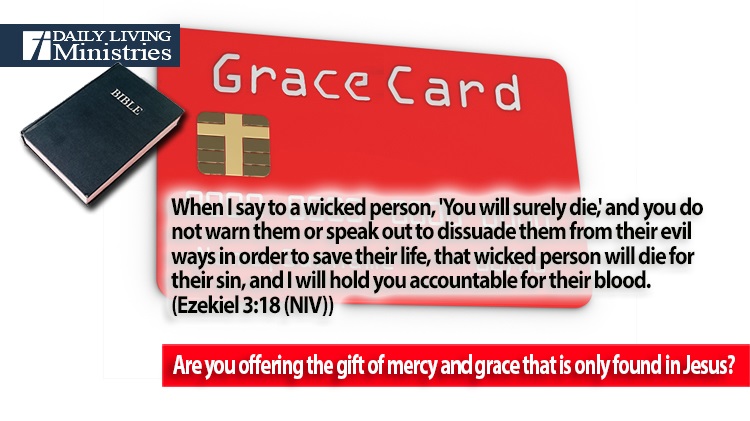 Be Still . . .
Devotionals for Daily Living ©
When I say to a wicked person, 'You will surely die,' and you do not warn them or speak out to dissuade them from their evil ways in order to save their life, that wicked person will die for their sin, and I will hold you accountable for their blood.
(Ezekiel 3:18 (NIV))
What do you think of when you see wickedness in the world?
Do you succumb to human nature and find yourself thinking that these wicked people will get what they deserve?
How does that attitude fit our basic job description that was given to us by Jesus?
Therefore go and make disciples of all nations, baptizing them in the name of the Father and of the Son and of the Holy Spirit, and teaching them to obey everything I have commanded you. And surely I am with you always, to the very end of the age."
(Matthew 28:19-20 (NIV))
Have you ever stopped to consider that these words from Jesus are His instructions to us to say "You will surely die" to a wicked person?
Think about that for a moment with respect to your salvation. What if no one ever told you what Jesus is asking you now to tell others? Where would that leave you? Wouldn't you want to be told that you would die, but there is a way to escape this death? Wouldn't you want to know that you have fallen short of what is expected of you?
for all have sinned and fall short of the glory of God,
(Romans 3:23 (NIV))
Wouldn't you want to know the consequences of this short coming, as well as the fact that God has already set things in motion to offer you grace?
For the wages of sin is death, but the gift of God is eternal life in Christ Jesus our Lord.
(Romans 6:23 (NIV))
Wouldn't you want to know that God has set a perfect plan in motion to redeem you from these consequences and that it is a free gift of grace only available through accepting His Son, Jesus as your personal Lord and Savior?
Therefore, there is now no condemnation for those who are in Christ Jesus,
(Romans 8:1 (NIV))
After reading all of this, we must go back to what was presented in Ezekiel. We are told that if we do not warn them, if we do not share that repentance and grace can be theirs, then we will be held accountable. With that said, salvation is not only for you and I. It is a gift that is to be continually given through the testimonies of those who have already received.
Are you warning others of what is to come?
Are you offering the gift of mercy and grace that is only found in Jesus?
Copyright 1998 – 2023 Dennis J. Smock
Daily Living Ministries, Inc.
https://www.dailylivingministries.org
Support Daily Living Ministries
Subscribe to daily email delivery
Visit us on facebook