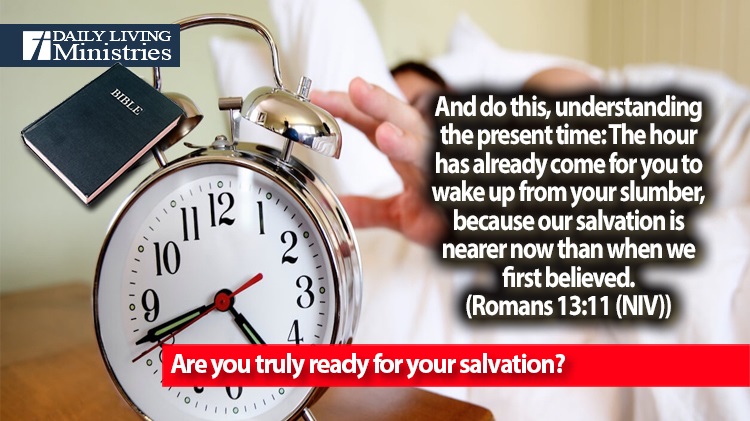 Be Still . . .
Devotionals for Daily Living ©
And do this, understanding the present time: The hour has already come for you to wake up from your slumber, because our salvation is nearer now than when we first believed.
(Romans 13:11 (NIV))
This holds so true. Each day brings us closer to our salvation than when we first believed. Each day draws us closer to each of us meeting Jesus, whether at His return or in our passing from this earth. Since none of us know when either of those dates will occur, we should live our lives as if this day were our last.
Are you ready, are you at peace with either of these events happening at this very moment in your life?
I wish that I knew how to make you take a dramatic pause after that last question. I hope that you truly stopped to reflect on your salvation. I realize that many people believe the things that have been prophesied are unfolding, and that very well may be true, but are you truly ready to meet Jesus if your time should come before His return? Would you be judged or would you receive grace? If you are on this earth long enough to meet Jesus when He comes for His church, His bride, would you meet Him in the air or would you be left behind?
With all that is going on in this world, anything could happen.
I have often stated that I love to cross-reference multiple different translations to pick up on the subtle word nuances that the translators used to convey the thoughts and the words originally written in Hebrew or Greek. This one caught my attention.
Besides all this, you know at what point of history we stand; so it is high time for you to rouse yourselves from sleep; for the final deliverance is nearer than when we first came to trust.
(Romans 13:11 (CJB))
Do you know at what point in history that you stand?
Have you roused yourself from the slumber that this world has left us in?
Are you truly ready to meet Jesus face to face?
Salvation is as easy as ABC.
A is for admit that you are a sinner in need of a savior.
B is for believe in your heart that Jesus Christ died for your sins, was buried, and that God raised Him from the dead.
C is for call upon the name of the Lord Jesus.
If you have made this, or a similar profession of faith in Jesus, then you are ready. If you long to seek after Jesus in all that you do, then you are ready. If you feel remorse when you still sin and then willingly repent, then you are ready. I pray that you do not lose track of the times, for God is moving and the enemy doesn't want you to know.
Are you truly ready for your salvation?
Copyright 1998 – 2022 Dennis J. Smock
Daily Living Ministries, Inc.
http://www.dailylivingministries.org
Support Daily Living Ministries
Subscribe to daily email delivery
Visit us on facebook