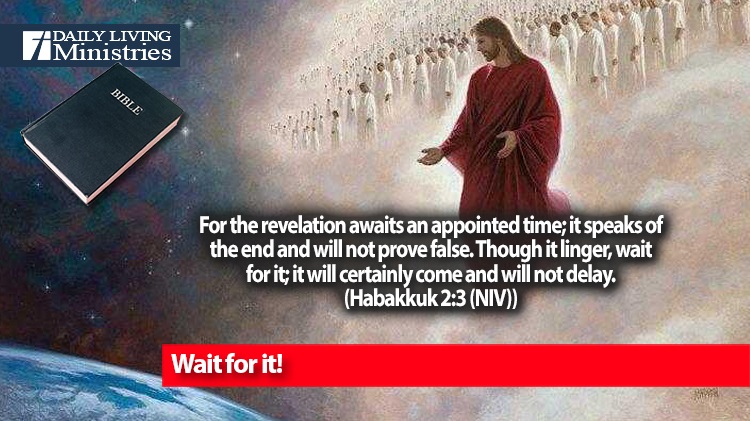 Be Still . . .
Devotionals for Daily Living ©
For the revelation awaits an appointed time; it speaks of the end and will not prove false. Though it linger, wait for it; it will certainly come and will not delay.
(Habakkuk 2:3 (NIV))
Do you await the appointed time?
Sadly, too many people who profess a faith in Jesus only look to Him as their assurance of eternal life once they die, but what about all of the other aspects of Jesus? What about the promise to return for His church? What about the promise to return as a mighty warrior who will defeat Satan and cast him into the Abyss for one thousand years? I know that I summarized all of these events, but we need to realize that Jesus is more than a get out of hell card that we can play if we profess a faith and belief in Him. I know that my wording may make some people question my understanding of Jesus as our Lord and Savior, but we have to look beyond our personal desires and look at what Jesus actually came to do.
Jesus came to bring salvation by living the perfect, sinless life that we are not capable of living. Every single human who has ever lived has been cursed with the results of the fall from grace in the Garden of Eden. Jesus came to offer each of us a way out of the results of that sin by willingly paying the price that our sin merits. Jesus came to give us a gift! Jesus came to defeat death!
For the wages of sin is death, but the gift of God is eternal life in Christ Jesus our Lord.
(Romans 6:23 (NIV))
Human nature has made too many people stop there.
Not only did Jesus come to offer us salvation by exchanging our sin for His righteousness as He suffered the death that was meant for us, He also came to defeat and bind the devil so that the father of lies could not deceive anyone else. Jesus came to restore the perfect creation that God had planned.
We like to think of Jesus as a baby, as a teacher, preacher and a miracle worker. We also think of Jesus as crucified, resurrected and ascended to the Father. We also think of spending eternity in heaven with Jesus, but we have a hard time with the righteous warrior aspects of Jesus. We don't like to think about the state of the world that will trigger His return for His church. We don't like to think of the wrath that will be poured out on the earth because humanity has gone too far and God's appointed time has come.
Does this frighten you, or, does it make you look up in hopeful anticipation of His return? It is a matter of perspective. If you look at His return through the eyes of one who has accepted Jesus as your personal Lord and Savior, the prospect of His soon return should excite you. If you look at His return through the eyes of one who has rejected Jesus, it is not too late to change your mind. It is as easy as ABC.
A is for admit that you are a sinner in need of a savior.
B is for believe in your heart that Jesus Christ died for your sins, was buried, and that God raised Him from the dead.
C is for call upon the name of the Lord Jesus.
Once you do that, I pray that you don't stop there. Embrace Jesus in all aspects of His glory. Do not fear Jesus as the righteous warrior. Wait for the appointed time.
Wait for it!
Copyright 1998 – 2021 Dennis J. Smock
Daily Living Ministries, Inc.
http://www.dailylivingministries.org
Support Daily Living Ministries
Subscribe to daily email delivery
Visit us on facebook