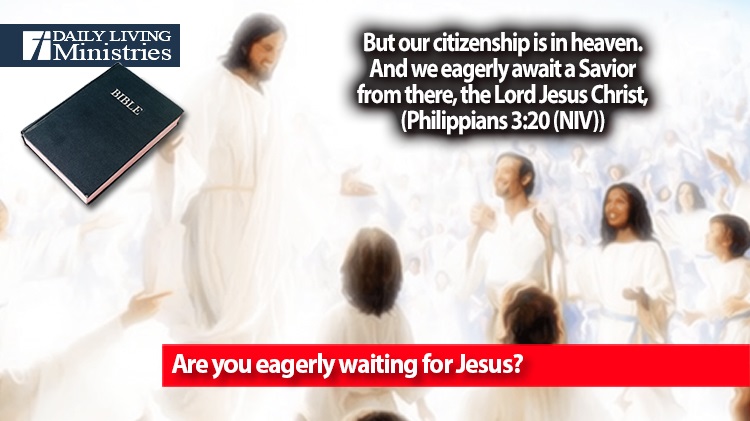 Be Still . . .
Devotionals for Daily Living ©
But our citizenship is in heaven. And we eagerly await a Savior from there, the Lord Jesus Christ,
(Philippians 3:20 (NIV))
Are you like the large group of people who are waiting for things in this world to return to normal?
The world's version of normal is highly overrated. Everything that the world calls normal, even when it is based in God's plan, has been polluted by sin. In fact, even those of us who profess a faith in Jesus as our personal Lord and Savior are not capable of making it through a single day without missing the mark that God has set for us. Add to this sinful nature the current state of the world where good is called evil and evil is called good and you end up with a rapidly deteriorating state of affairs that is getting further and further away from God's perfect creation.
Do you love this world?
I realize that this world is our home, but is it worthy of our love? There are aspects of this world that still hint at God's majesty, but sinful humanity, under the power and influence of the enemy, has found a way to corrupt everything. With everything that is going on, most people who study Bible prophecy are in agreement that what we used to know as normal is a thing of the past and that things will rapidly get much worse. We are already seeing outright attacks on anything that is based on Christian principles. We are seeing outright hatred of anyone who professes a faith in Jesus.
Everyone will hate you because of me, but the one who stands firm to the end will be saved.
(Mark 13:13 (NIV))
Are you standing firm?
Israel is under constant attack. They have had four elections trying to seat an official government and now they have a government that is a coalition comprised of what many people believe is a facade for those who seek to destroy Israel. Every nation is turning against Israel, and our current government has made some rather unusual choices to side with those who seek to destroy what God has claimed as His own.
If you are like me, you probably are looking at the current state and asking how much worse it can get. I pray that you are also asking Jesus how much longer it will be before He comes for His church. I know that we currently live in this world, so therefore it is our home, but is it truly the place that your heart longs for? We have a promise of something so much better.
My Father's house has many rooms; if that were not so, would I have told you that I am going there to prepare a place for you? And if I go and prepare a place for you, I will come back and take you to be with me that you also may be where I am.
(John 14:2-3 (NIV))
Our eternal home is with Jesus. Our eternal citizenship is in heaven. All that is missing is His return for us.
Are you eagerly waiting for Jesus?
Copyright 1998 – 2021 Dennis J. Smock
Daily Living Ministries, Inc.
http://www.dailylivingministries.org
Support Daily Living Ministries
Subscribe to daily email delivery
Visit us on facebook