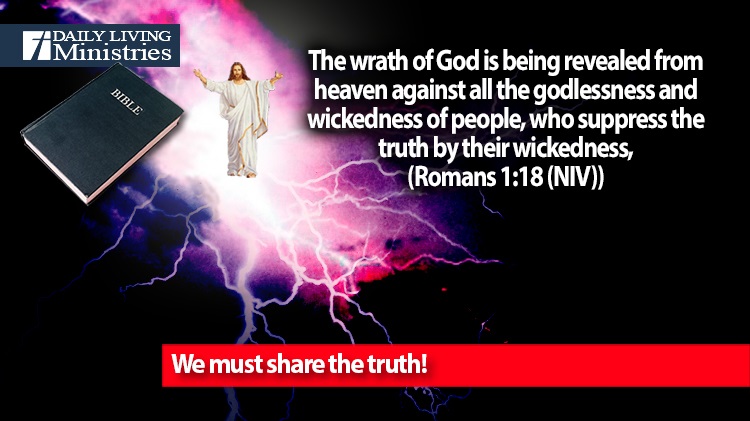 Be Still . . .
Devotionals for Daily Living ©
The wrath of God is being revealed from heaven against all the godlessness and wickedness of people, who suppress the truth by their wickedness,
(Romans 1:18 (NIV))
Have you ever just stopped and looked around at all that is going on in the world and wondered if all that is unfolding is all part of God's plan because of the world's godlessness and wickedness?
To the world, that question seems like the rantings of a lunatic, but for the members of the Body of Christ, that question makes perfect sense. What do you think of that question? Do you think that anyone who professes a belief that God is beginning to exact His wrath on a wicked world is insane, or do you understand God's plan well enough in relation to what is unfolding to see things from His perspective?
We are told what happens to those who deny anything to do with God.
Furthermore, just as they did not think it worthwhile to retain the knowledge of God, so God gave them over to a depraved mind, so that they do what ought not to be done.
(Romans 1:28 (NIV))
Simply stated, this translation implies that they did not wish to hold God in their minds or in their memories so He gave them depravity. Another translation states it this way.
And since they did not see fit to acknowledge God, God gave them up to a debased mind to do what ought not to be done.
(Romans 1:28 (ESV))
This translation implies that they refused to recognize the authority of God so He lowered the quality of their minds. Perhaps the best translation of this passage that I have read comes from the Complete Jewish Bible.
In other words, since they have not considered God worth knowing, God has given them up to worthless ways of thinking; so that they do improper things.
(Romans 1:28 (CJB))
In other words, they were given a choice and they decided that God was not worth it! This results in worthless ways of thinking and improper actions. Is it just me, or does this sound just like what we are seeing in the world right now? Good is called evil and evil is called good. Sin is called a lifestyle and Biblical values are called bigoted and hateful. Anything and everything is accepted as long as it is not the truth.
When I see things like this in the world, I feel a wide range of emotions. I feel sadness. I feel pity. I feel anger. I feel helpless, hopeless and lost because these people don't even recognize that they are making an eternal mistake.
Do you consider God worth knowing?
Do you recognize the authority of God?
Do you keep God in your memory and on your mind?
The time is short. From what I have seen, there is an increasing intensity and a rapidly increasing convergence of things happening in this world. Pray for your families. Pray for your city. Pray for you region, your country and the world. Pray that the hearts and minds of those who deny God will be softened and changed before it is too late! There has never been a more urgent time to share the Gospel!
We must share the truth!
Copyright 1998 – 2021 Dennis J. Smock
Daily Living Ministries, Inc.
http://www.dailylivingministries.org
Support Daily Living Ministries
Subscribe to daily email delivery
Visit us on facebook