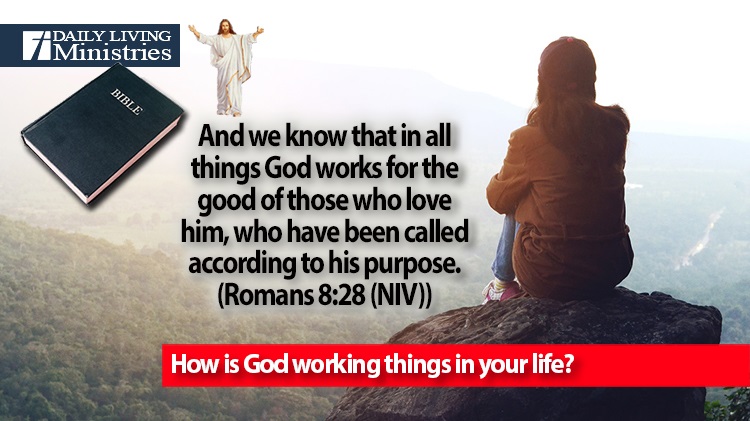 Be Still . . .
Devotionals for Daily Living ©
And we know that in all things God works for the good of those who love him, who have been called according to his purpose.
(Romans 8:28 (NIV))
There are so many things that I could ask based on this passage, but they all hinge upon a single question.
Do you love God?
If your answer is that you love God, then have you been called according to His purpose? Have you answered His call?
Contrary to what many people believe, if you profess a faith in Jesus as your personal Lord and Savior, and you rely on this profession to show that you love God, then you have a calling. We don't just simply sit back and do whatever we want while reaping the blessings. We are each called to share those blessings with the world. We are called to share Jesus!
He said to them, "Go into all the world and preach the gospel to all creation. Whoever believes and is baptized will be saved, but whoever does not believe will be condemned.
(Mark 16:15-16 (NIV))
These words were spoken to the disciples after His resurrection and at His ascension, but they still apply to you and I today. The disciples passed that responsibility to others, who passed it to others, who passed it to others as it eventually made it to you and I. The instructions haven't changed. We, as professing members of the Body of Christ, are all called to preach the gospel. That calling hasn't changed since it was given, but what has changed are the people who are the ones who should now be responding to that calling. Those people are you and I! What has changed are the individuals who have been gifted with unique abilities to reach people that only they can reach.
Think about that!
There are lost people in your circle of influence who need to know Jesus.
Have you ever shared the Gospel? Have you ever felt a burden for a lost individual? Have you ever prayed for God to show you how to tell someone about Jesus? Have you ever asked God to specifically show you His will and His call upon your life? Perhaps you are simply content going through life thinking that you have your salvation and that someone else will take the responsibility of sharing with the people whom you are called to shared Jesus with?
If you truly love God, then you should want to tell everyone about what He has done.
Think about that in terms of a worldly relationship. When you were dating someone new, you told everyone you know about that person. You probably talked on and on about the cute way that they smiled and how they made you smile. Think about what God has done for you through His Son, Jesus. Isn't it something far greater than a cute smile? Do you love the Lord? Do you have something so wonderful to share because of this new relationship?
Do you love God enough to share Him with others? Do you simply sit back and allow His calling to go unanswered? If you don't answer His call, what does that say about your love for Him?
How is God working things in your life?
Copyright 1998 – 2022 Dennis J. Smock
Daily Living Ministries, Inc.
http://www.dailylivingministries.org
Support Daily Living Ministries
Subscribe to daily email delivery
Visit us on facebook