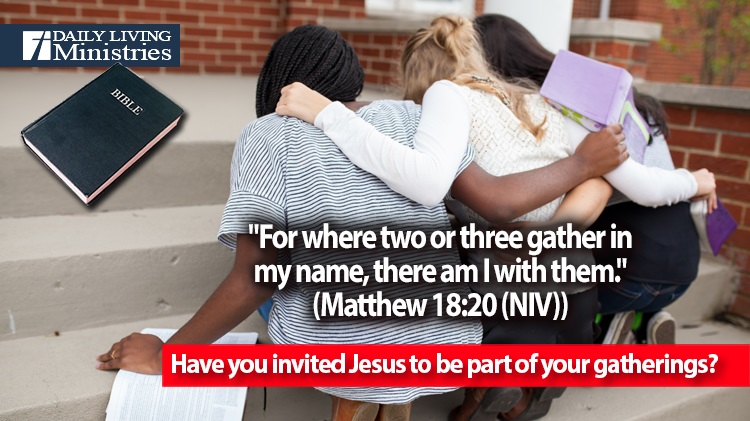 Be Still . . .
Devotionals for Daily Living ©
"For where two or three gather in my name, there am I with them."
(Matthew 18:20 (NIV))
Do you love to gather in His name?
Most of us think of church when we think about this, but why do we limit our fellowship with Jesus to the walls of a church building? Why don't we invite Jesus to be with us when we gather socially with friends or family? Why don't we invite Jesus to be with us when it is only our immediate family and we are at home? We need to get in the habit of asking Jesus to be in our midst at all times, and not just when we gather at a church. One day, we may find that such a gathering is no longer an option. We must take responsibility for our relationship with Jesus and with others. We should never simply rely on a local church to spoon-feed us our weekly dose of spirituality. We need Jesus each and every moment of each and every day!
We know that a time is coming when the antichrist will target anyone who will not worship him. We know that a time is coming where people will face death if they profess a faith in Jesus. If we are part of that generation that will see this unfold, we must be prepared to rely on Jesus. We must be prepared to stand firm in our faith even if we can only gather with a few other believers. We must truly understand what it means to gather in His name!
Can you pray powerful and effective prayers? Can you offer encouragement in the face of adversity? Can you discern truth and call evil exactly what it is? Can you focus on eternity when all around you is falling apart? Can you keep your eyes focused on Jesus?
Only God knows what tomorrow may bring. If His plan unfolds in our lifetimes, and we have to rely on other believers, will you be ready to invite Jesus into your midst even if you are in chains? I realize that this sounds doom and gloom, but we must remember that we are told that it will happen. We are also told that those who persevere will be given a crown. We know who wins.
Have you invited Jesus to be part of your gatherings?
Copyright 1998 – 2022 Dennis J. Smock
Daily Living Ministries, Inc.
http://www.dailylivingministries.org
Support Daily Living Ministries
Subscribe to daily email delivery
Visit us on facebook