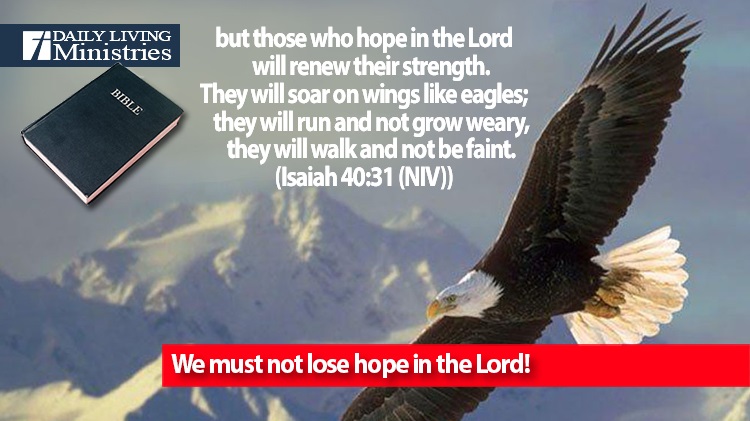 Be Still . . .
Devotionals for Daily Living ©
but those who hope in the Lord
    will renew their strength.
They will soar on wings like eagles;
    they will run and not grow weary,
    they will walk and not be faint.
(Isaiah 40:31 (NIV))
How has your strength been recently?
I could probably stop with just those words and you can fill in your own issues that you see in the world and in your life. Let's face it. Every single person alive is caught up in the middle of the events that have affected the whole world.
Financial crises.
Political upheaval.
Race riots.
Wars and rumors of wars.
The global pandemic.
Good being called evil and evil being called good.
Do I need to list anything else?
I honestly do not understand how anyone who doesn't profess a faith in Jesus as their personal Lord and Savior makes it through each day when more and more is added to the already huge list of troubles. Those who do call upon the name of the Lord have a promise that we can rely upon to give us strength even in the midst of troubles.
"I have told you these things, so that in me you may have peace. In this world you will have trouble. But take heart! I have overcome the world."
(John 16:33 (NIV))
We are told that troubles will increase as the time gets closer for the events spoken of in Daniel, Ezekiel, and Revelation. As we see things unfolding, we must remember to never lose sight of the Lord. We must remember to never lose hope in the Lord, for all of His promises are "Yes!" When the world sees trouble, we must see hope. We must renew our strength as we find shelter in His presence and in His strength. When we rely on His strength, we can face anything. We can run and not grow weary. We can walk and not be faint, and best of all, we can soar above the troubles of the world.
We must not lose hope in the Lord!
Copyright 1998 – 2021 Dennis J. Smock
Daily Living Ministries, Inc.
http://www.dailylivingministries.org
Support Daily Living Ministries
Subscribe to daily email delivery
Visit us on facebook