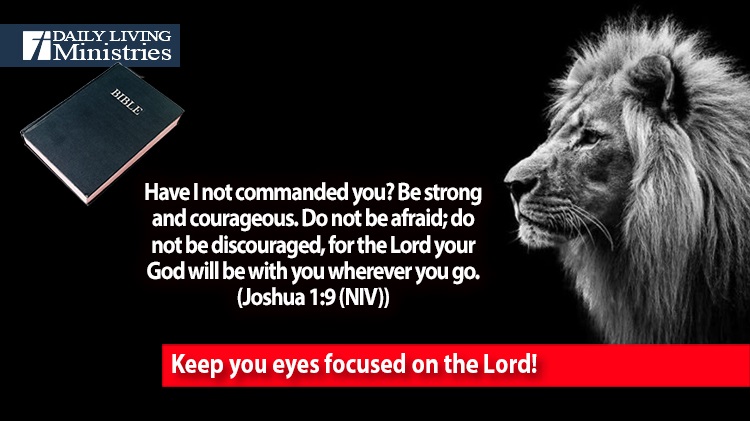 Be Still . . .
Devotionals for Daily Living ©
Have I not commanded you? Be strong and courageous. Do not be afraid; do not be discouraged, for the Lord your God will be with you wherever you go.
(Joshua 1:9 (NIV))
With the current state of the world, are you at afraid? Are you discouraged?
Do you have the strength and courage to fully rely on God no matter what happens?
I realize that these are tough questions to answer honestly. Each of us would like to think that we can walk the proverbial walk and not just talk the talk, but how many of us have truly been tested in our faith? Just like when a baby first learns to walk, it takes small steps where we gingerly venture out in uncertainty. With each step of faith that we take, our strength and courage grow as we learn that we can be confident in the promises and the presence of the Lord. Just like a baby, if we don't allow the stumbles and falls to deter us, we will soon find ourselves with the confidence to walk boldly with the Lord.
I have found a fantastic benefit to walking boldly with the Lord.
Peace!
In all circumstances that I have faced so far in my life since accepting Jesus as my personal Lord and Savior, I have learned to find peace.
And the peace of God, which transcends all understanding, will guard your hearts and your minds in Christ Jesus.
(Philippians 4:7 (NIV))
They say that hindsight is 20/20. It is also a tremendous way to remind yourself of the fulfilled promises and presence of the Lord. When you look back, you find the strength and courage to trust in the Lord as you look to the future fulfillment of His promises.
Keep you eyes focused on the Lord!
Copyright 1998 – 2021 Dennis J. Smock
Daily Living Ministries, Inc.
http://www.dailylivingministries.org
Support Daily Living Ministries
Subscribe to daily email delivery
Visit us on facebook