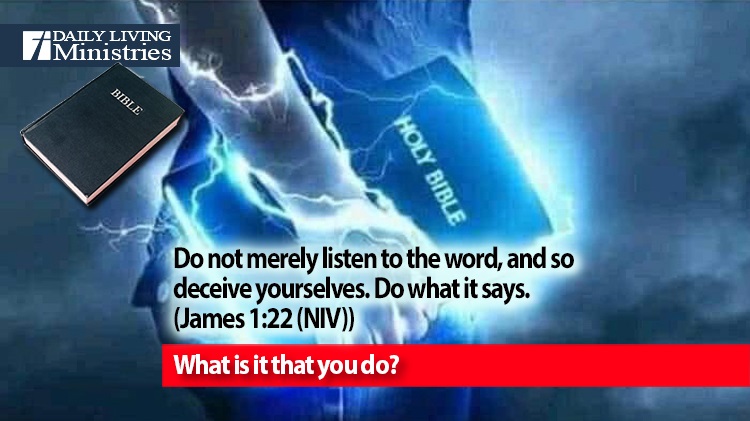 Be Still . . .
Devotionals for Daily Living ©
Do not merely listen to the word, and so deceive yourselves. Do what it says.
(James 1:22 (NIV))
Are you content to hear a twenty minute sermon once a week and then profess to know how God desires for you to live?
If you want to learn how to be a better musician, you practice your instrument often. If you want to be a better tennis player, you practice and play often. If you want to run a marathon, you train and you run often. If you want to be good at your job, you go to school to learn the details about your chosen profession. Why do we think that we can do any different when it comes to living our lives according to God's Word? Why do we think that we've got this "Christianity thing" down pat when we can't even go one minute without failing miserably at putting our faith into action?
James tells us to do what the Word says, but how many of us actually spend enough time alone in God's Word to know what it says? How many of us truly understand the concept of taking up our cross daily and following Him daily?
Then he said to them all: "Whoever wants to be my disciple must deny themselves and take up their cross daily and follow me.
(Luke 9:23 (NIV))
If we don't do what His Word says, if we don't take up our cross daily, if we don't follow Him daily, are we doing anything more than giving lip service to something that we truly don't understand? Are we guilty of simply being a poser?
Not everyone who says to me, 'Lord, Lord,' will enter the kingdom of heaven, but only the one who does the will of my Father who is in heaven. Many will say to me on that day, 'Lord, Lord, did we not prophesy in your name and in your name drive out demons and in your name perform many miracles?' Then I will tell them plainly, 'I never knew you. Away from me, you evildoers!'
(Matthew 7:21-23 (NIV))
I long to hear completely different words when I stand before Jesus!
His master replied, 'Well done, good and faithful servant! You have been faithful with a few things; I will put you in charge of many things. Come and share your master's happiness!'
(Matthew 25:21 (NIV))
We know that only by professing a faith in Jesus will we be saved. Works will not do it. Associating with someone who professes a faith will not do it. Only by professing a faith in Jesus as your personal Lord and Savior will bring you the gift of salvation, but we are called to put our faith into action. We are called to live according to God's Word. We are called to emulate Jesus in all that we do. We are called to walk with Jesus and imitate what we see in Him. If we profess a faith in Jesus, then our heart should desire to do what He calls us to do, but we must do it only as He directs. It is so easy to see things that we think we should be doing and go off and do them without Jesus in our lives. If you consider Jesus in context to the passage from James, it bring clarity. Jesus was God with us, yet, He didn't do what He wanted to do. He only did what God's Word instructed.
Jesus gave them this answer: "Very truly I tell you, the Son can do nothing by himself; he can do only what he sees his Father doing, because whatever the Father does the Son also does.
(John 5:19 (NIV))
What is it that you do?
Copyright 1998 – 2022 Dennis J. Smock
Daily Living Ministries, Inc.
http://www.dailylivingministries.org
Support Daily Living Ministries
Subscribe to daily email delivery
Visit us on facebook