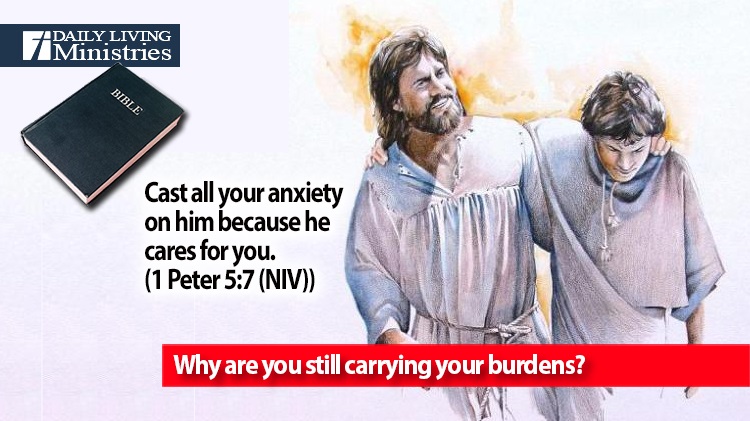 Be Still . . .
Devotionals for Daily Living ©
Cast all your anxiety on him because he cares for you.
(1 Peter 5:7 (NIV))
I don't know about you, but sometimes I feel the weight of the world on my shoulders. If there is one thing that this sinful, fallen world is good at, it is good at creating anxiety in those who call this world home. Professing a faith in Jesus does not mean that the world will not do all within its power to burden you and to give you stress, it just means that we have an assurance that the anxiety that we feel can be lifted, that it can be carried by the One who created this world. And, no, He did not create it in it's current state. This world was created as perfection. It is we who have turned it into the mess that it has become.
For the second time in as many days, I find myself singing the refrain from a hymn that says it better than anything I have ever heard or could possibly ever write.
Turn your eyes upon Jesus
Look full in his wonderful face
And the things of earth will grow strangely dim
In the light of his glory and grace
(Helen Howarth Lemmel)
When we cast all of our anxiety upon Jesus, this is exactly what happens!
The key word in that last sentence is "when," for we have a tendency to hold onto our burdens and our anxieties far too long. We let them weigh us down. We let them control us. We let them drag us deeper into the very thing that we are burdened with. We don't have to be burdened. We don't have to carry anxiety. We don't have to live according to the world. We have a risen Savior who has defeated the world and has willingly taken our sins, our burdens and our anxieties upon Himself. All that we have to do is surrender them up to Him.
The thief comes only to steal and kill and destroy; I have come that they may have life, and have it to the full.
(John 10:10 (NIV))
Why are you still carrying your burdens?
Copyright 1998 – 2022 Dennis J. Smock
Daily Living Ministries, Inc.
http://www.dailylivingministries.org
Support Daily Living Ministries
Subscribe to daily email delivery
Visit us on facebook