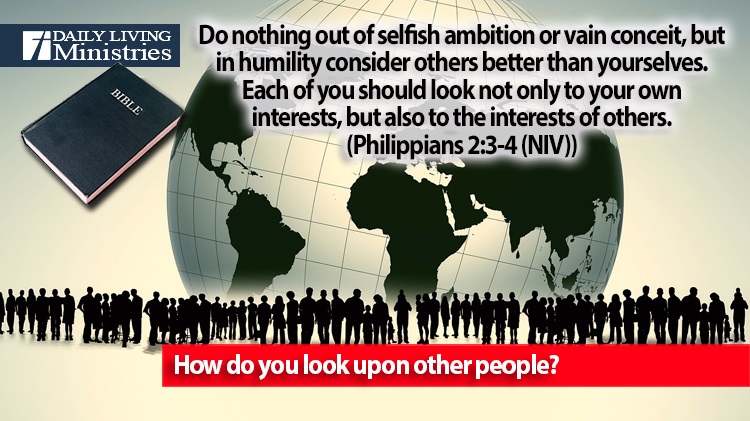 Be Still . . .
Devotionals for Daily Living ©
Do nothing out of selfish ambition or vain conceit, but in humility consider others better than yourselves. Each of you should look not only to your own interests, but also to the interests of others.
(Philippians 2:3-4 (NIV))
There is that strange word, again!
Others.
We have instructions to look after the interests of those that are not ourselves. What a concept in this day of the "What's in it for me" mentality.
I tell you the truth, anyone who has faith in me will do what I have been doing. He will do even greater things than these, because I am going to the Father.
(John 14:12 (NIV))
Do you have faith in Jesus?
Think about what He has done for anyone who is simply willing to receive. He was and is the Son of God, yet, He came to this earth to die for others. He did not have His interests in mind when He went to the cross.
Later, knowing that all was now completed, and so that the Scripture would be fulfilled, Jesus said, "I am thirsty." A jar of wine vinegar was there, so they soaked a sponge in it, put the sponge on a stalk of the hyssop plant, and lifted it to Jesus' lips. When he had received the drink, Jesus said, "It is finished." With that, he bowed his head and gave up his spirit.
(John 19:28-30 (NIV))
"It is finished."
Three simple words that show that this was all part of a plan to save others. He thought of you and I while He was on that cross. What can we do to express our faith so that we do not become selfish and conceited?
How do you look upon other people?
Copyright 1998 – 2023 Dennis J. Smock
Daily Living Ministries, Inc.
https://www.dailylivingministries.org
Support Daily Living Ministries
Subscribe to daily email delivery
Visit us on facebook