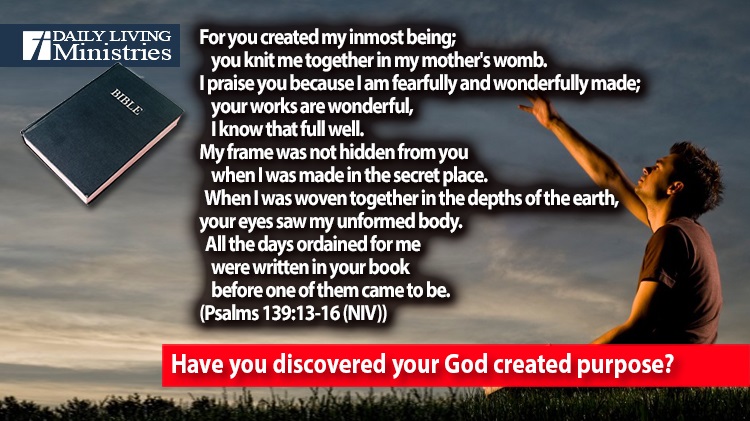 Be Still . . .
Devotionals for Daily Living ©
For you created my inmost being;
       you knit me together in my mother's womb.
I praise you because I am fearfully and wonderfully made;
       your works are wonderful,
       I know that full well.
My frame was not hidden from you
       when I was made in the secret place.
    When I was woven together in the depths of the earth,
your eyes saw my unformed body.
    All the days ordained for me
       were written in your book
       before one of them came to be.
(Psalms 139:13-16 (NIV))
God has created each of us to be unique. This was His plan from the beginning of time. It was His plan from your conception. It was His plan from your birth.
If God has planned for you to be unique, why do so many of us spend time trying to be just like someone else?
Perhaps we spend too little time looking for the unique creation within us and spend too much time looking for what the world has to offer us. We should stop and look inward at what God has already given each of us to see that He has already given us a unique life that does not need worldly influence to be happy and successful.
God does not make mistakes! He has made each of us and He knows us intimately.
He loves us as we are. He does not approve of our nature when we seek outside gratification because it leads to sin. He wants us to turn to Him as Creator, Lord, and Savior.
Do you fear your God given uniqueness? Do you long to be like someone else? God has already created them. He wants you to spend time in His presence and discover who He created you to be.
Have you discovered your God created purpose?
Copyright 1998 – 2021 Dennis J. Smock
Daily Living Ministries, Inc.
http://www.dailylivingministries.org
Support Daily Living Ministries
Subscribe to daily email delivery
Visit us on facebook