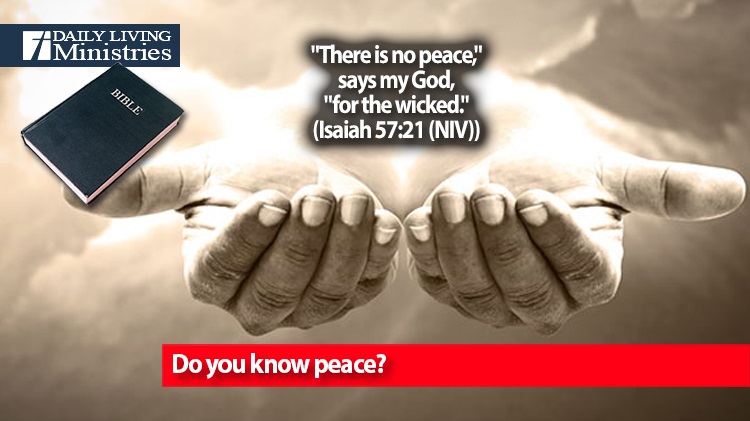 Be Still . . .
Devotionals for Daily Living ©
"There is no peace," says my God, "for the wicked."
(Isaiah 57:21 (NIV))
Contrary to what the world will try to make you think, sin is sin, evil is evil, and wickedness is real. It has been part of the human condition ever since the fall from grace in the Garden of Eden. We traded God's perfection for a lie and ever since that day, all of humanity has missed the mark that God had established for His creation. We missed the mark as stewards. We missed the mark in our trust of God. We missed the mark in choosing righteousness over evil. We missed the mark completely.
We sinned!
Sadly, we continue to sin.
All of us have become like one who is unclean,
    and all our righteous acts are like filthy rags;
we all shrivel up like a leaf,
    and like the wind our sins sweep us away.
(Isaiah 64:6 (NIV))
Every single one of us are lost in a problem of our own making. It is also a problem that we cannot fix on our own. We cannot overcome sin and achieve the righteousness that God desires on our own merits. It is impossible for a filthy rag to pick itself up, clean itself and make itself presentable to the one who made it. It requires a loving Creator to pick us up out of the filth and wash us clean. It requires a loving Creator to share His righteousness so that the rags can become clean.
This righteousness is given through faith in Jesus Christ to all who believe. There is no difference between Jew and Gentile, for all have sinned and fall short of the glory of God, and all are justified freely by his grace through the redemption that came by Christ Jesus.
(Romans 3:22-24 (NIV))
I know that you have seen the following words many times, but to be honest with you, there is so much truth that is contained within these eight words.
No Jesus. No peace.
Know Jesus. Know peace!
The world will not give you peace. The world is in a sinful, fallen state. Everything that is in the world has been corrupted and will be used by the enemy to attack. If you are under attack, you are not at peace.
And the peace of God, which transcends all understanding, will guard your hearts and your minds in Christ Jesus.
(Philippians 4:7 (NIV))
Only by accepting Jesus as your personal Lord and Savior will you know true peace.
Do you know peace?
Copyright 1998 – 2021 Dennis J. Smock
Daily Living Ministries, Inc.
http://www.dailylivingministries.org
Support Daily Living Ministries
Subscribe to daily email delivery
Visit us on facebook