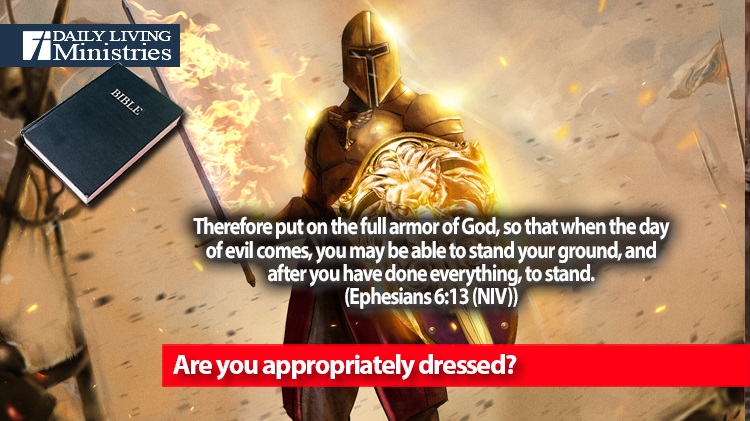 Be Still . . .
Devotionals for Daily Living ©
Therefore put on the full armor of God, so that when the day of evil comes, you may be able to stand your ground, and after you have done everything, to stand.
(Ephesians 6:13 (NIV))
If you profess a faith in Jesus as your personal Lord and Savior, you have an assignment. You have been given marching orders. We are to go into all the world and share the Gospel. We are also told that we will face tribulation in this world, but to rely on Jesus because He has overcome the world.
We are also told to dress for battle!
If you believe that God is love and accepts everyone no matter what their lifestyle and the sin that they practice, then this doesn't make sense. But, if you hold fast to the truth that Jesus came to set the captives free, to deliver the sinner from bondage, and to offer hope to a sinful, dying world by calling sinners to repentance, then you fully understand why we are to dress for battle. We will be facing the enemy. We will be facing the father of all lies. We will be facing an entity who utterly hates those who profess a faith in Jesus and in God the Father. In all of this, Jesus is our protector. He is our champion. He is our armor. He is THE full armor of God!
We are to fully clothe ourselves in Jesus, who is the Word made flesh!
Stand firm then, with the belt of truth buckled around your waist, with the breastplate of righteousness in place, and with your feet fitted with the readiness that comes from the gospel of peace. In addition to all this, take up the shield of faith, with which you can extinguish all the flaming arrows of the evil one. Take the helmet of salvation and the sword of the Spirit, which is the word of God.
(Ephesians 6:14-17 (NIV))
In light of the events that are transpiring in this world, we need to fully clothe ourselves with Jesus. We are to recognize and clothe ourselves with the armor that only He can provide. When we do this, we no longer fight the battles. The battle then belongs to the Lord!
With this truth, are you still fighting the battles based on your abilities or have you allowed the Lord to fight for you and to protect you? Are you trying to stand in your strength or are you standing in His strength?
It is time that you answered one very important question.
Are you appropriately dressed?
Copyright 1998 – 2022 Dennis J. Smock
Daily Living Ministries, Inc.
https://www.dailylivingministries.org
Support Daily Living Ministries
Subscribe to daily email delivery
Visit us on facebook