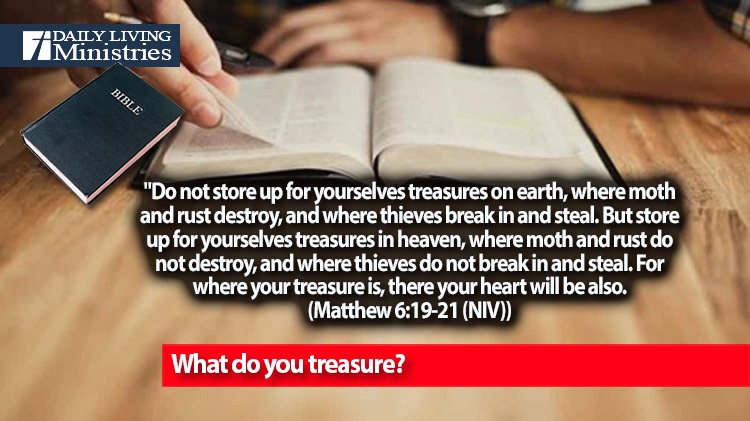 Be Still . . .
Devotionals for Daily Living ©
"Do not store up for yourselves treasures on earth, where moth and rust destroy, and where thieves break in and steal. But store up for yourselves treasures in heaven, where moth and rust do not destroy, and where thieves do not break in and steal. For where your treasure is, there your heart will be also.
(Matthew 6:19-21 (NIV))
This world is fleeting and the things in it do not last. The treasures that man stores for himself will eventually be worthless.
Nothing lasts forever in this world. But we have a promise of something much greater that is not of this world. Since it is not of this world, then it will last forever, for the promise is that nothing can destroy it or no one can steal it.
Just what is this treasure that is so priceless, yet cannot be stolen? It is the treasure of heaven as God has promised and as Jesus Christ has made it available to us through His selfless sacrifice on the cross.
It is said that "For where your treasure is, there your heart will be also." If that is true, then we must carefully select what we treasure. If our treasure is something worldly that can be stolen or destroyed, then our heart can be stolen or destroyed as well. Many people have had this happen to them. Their treasure was gold, and their heart became so consumed with protecting that gold that nothing else mattered. What do you suppose would happen to these people if they lost all of their gold?
When the stock market crashed at the beginning of the Great Depression, many people lost their fortunes, and many of those took their own lives. They could not comprehend life without what they had worked so hard to gain. What would have happened to these people had they placed their heart with Jesus?
What do you treasure?
Copyright 1998 – 2021 Dennis J. Smock
Daily Living Ministries, Inc.
http://www.dailylivingministries.org
Support Daily Living Ministries
Subscribe to daily email delivery
Visit us on facebook