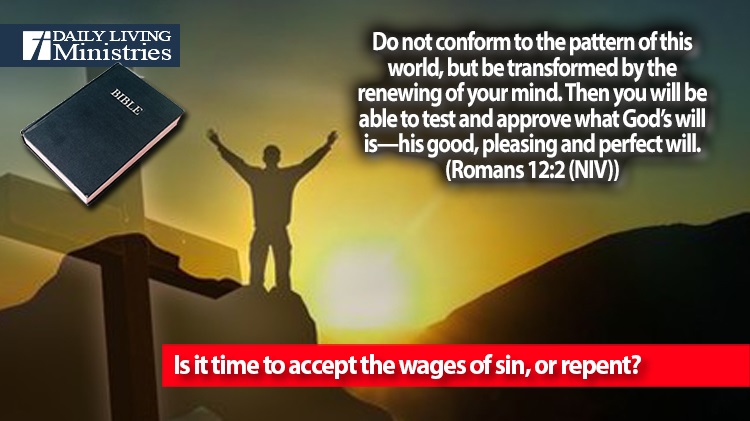 Be Still . . .
Devotionals for Daily Living ©
Do not conform to the pattern of this world, but be transformed by the renewing of your mind. Then you will be able to test and approve what God's will is—his good, pleasing and perfect will.
(Romans 12:2 (NIV))
When you take a look around at the world, what do you see?
I realize that this is a very loaded question, for the world is a sinful, fallen place that just keeps getting further and further away from what God created it to be. People are doing whatever pleases themselves and the depravity of these actions is sad to the point of being sickening.
Furthermore, just as they did not think it worthwhile to retain the knowledge of God, so God gave them over to a depraved mind, so that they do what ought not to be done.
(Romans 1:28 (NIV))
God sees the depravity. People have turned, and more are still turning away from God, and doing whatever their depraved minds can imagine. I believe that we are at the point in human history, in God's timeline, where the Lord is saying if that is what you want, then you will get exactly what you desire. People want perversion. God allows their minds to lead them deeper and deeper into what they desire. People want rebellion. God allows people to rebel to the point where they have dug their own proverbial pit to fall into. People want sin over righteousness. God is allowing them to go down the path that they have chosen. He allows them to go down the path that they think is comfortable to them.
All the while, He is calling them to repent. He is calling them to return to Himself and to His righteousness.
Sadly, too many are completely comfortable in their sin. They enjoy their sin. They are to the point where they feel that they can kick back, relax and enjoy their depravity, but, . . .
For the wages of sin is death, but the gift of God is eternal life in Christ Jesus our Lord.
(Romans 6:23 (NIV))
Are you ready to accept your wages? Are you ready to accept the consequences of your sin?
The choice is yours.
Is it time to accept the wages of sin, or repent?
Copyright 1998 – 2022 Dennis J. Smock
Daily Living Ministries, Inc.
https://www.dailylivingministries.org
Support Daily Living Ministries
Subscribe to daily email delivery
Visit us on facebook