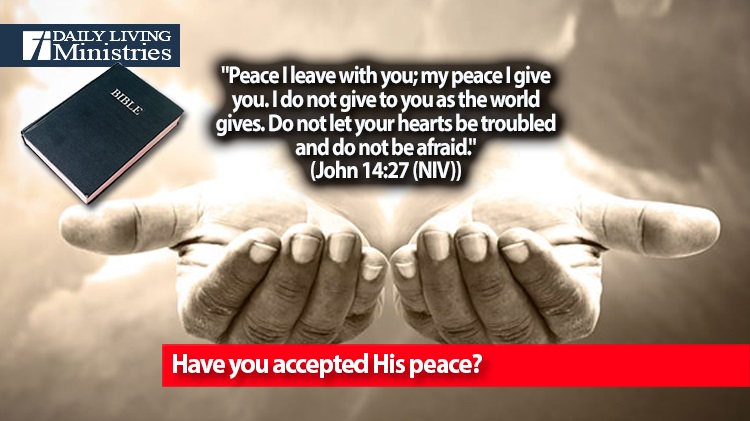 Be Still . . .
Devotionals for Daily Living ©
"Peace I leave with you; my peace I give you. I do not give to you as the world gives. Do not let your hearts be troubled and do not be afraid."
(John 14:27 (NIV))
There is so much packed into these three short sentences!
Jesus starts off by telling us that He gives us peace, but we know that the peace that He gives is so much more than the fleeting glimpses that the world shows us.
And the peace of God, which transcends all understanding, will guard your hearts and your minds in Christ Jesus.
(Philippians 4:7 (NIV))
What has the world given you?
You may start to say life and love, but where did those truly come from?
The things that this sinful, fallen world gives us are not what God gives us. Pain and heartache come to mind as just two examples of the not so wonderful gifts the world gives us. Sickness and death come to mind, as well as bitterness and anxiety. In essence, the things that the world bestows upon us are not the gifts that we want.
With that in mind, what has the world actually given to you?
Is it anything that you desire to keep?
What has Jesus given to you? What has God given to each of us in our sinful, fallen nature?
But God demonstrates his own love for us in this: While we were still sinners, Christ died for us.
(‭‭Romans‬ ‭5:8‬ (‭NIV‬‬))
For God so loved the world that he gave his one and only Son, that whoever believes in him shall not perish but have eternal life. For God did not send his Son into the world to condemn the world, but to save the world through him. Whoever believes in him is not condemned, but whoever does not believe stands condemned already because they have not believed in the name of God's one and only Son.
(John 3:16-18 (NIV))
Lastly, Jesus tells us to not be fearful and troubled.
"I have told you these things, so that in me you may have peace. In this world you will have trouble. But take heart! I have overcome the world."
‭‭(John‬ ‭16:33‬ ‭(NIV‬‬))
We can stand firmly on the promises of these three sentences, but it comes with a price. We must profess a faith in Jesus as our personal Lord and Savior! We must repent and follow Jesus! Only then will we have the peace that only He can give.
Have you accepted His peace?
Copyright 1998 – 2021 Dennis J. Smock
Daily Living Ministries, Inc.
http://www.dailylivingministries.org
Support Daily Living Ministries
Subscribe to daily email delivery
Visit us on facebook