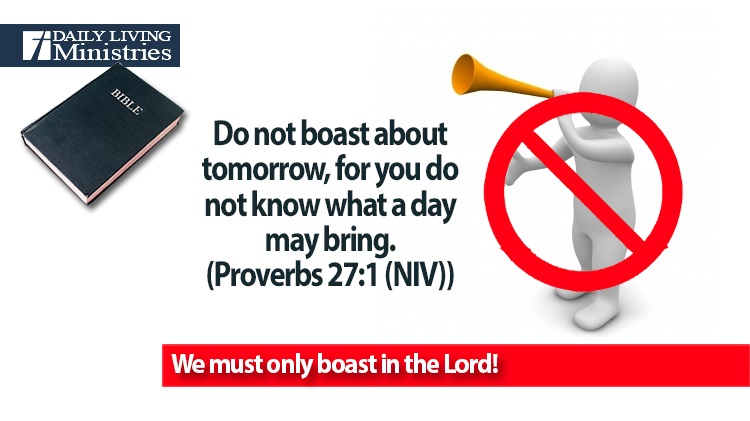 Be Still . . .
Devotionals for Daily Living ©
Do not boast about tomorrow, for you do not know what a day may bring.
(Proverbs 27:1 (NIV))
What is your honest opinion about tomorrow?
When I was younger, it was so easy to get overly optimistic about what we call tomorrow. It is amazing what a little age and Biblical study will do with respect to your attitude toward worldly optimism. It does wonders for your spiritual optimism, for it makes you take a long, hard look at your priorities and it makes you take a long, hard look at your understanding of eternity.
I have come to the conclusion that there are basically two different paths that we may have with respect to what we know as tomorrow. Each of the two paths have the same steps – today in this world and a tomorrow facing eternity. Both paths are based on choices that we make today. The difference in the paths is our attitude.
Path One:
Today has us waking up to a world that we profess a love for and we strive to get all that the world has to offer. People who follow this view of the world boast about the things that they will do. They boast about the places that they will go. They boast about all that they will accomplish without giving any thought to the consequences of their attitudes.
Tomorrow finds the same type of person as in Path One's Today, but now only with a different location. They are facing eternity far removed from the God whom they never acknowledged and His Christ whom they never accepted. Today turns into tomorrow sometimes without warning. There is no turning back!
Path Two:
Today is the person who wakes up in this world and immediately thanks the Lord for the great gift of one more day. They look around and see the beauty of God's creation, yet they see the sin that has scarred that creation since Adam and Eve. They give thanks to the Lord for all the blessings they are given in this world. The person detests what the world has become and they long for an eternity with the Lord.
Tomorrow finds the same type of person as in Path Two's Today, but they are now in a different location. They are embracing eternity in the presence of the Lord because they embraced Jesus as their personal Lord and Savior when they were in the world. Today turns into Tomorrow sometimes without warning. There is no looking back!
Either way, we have nothing that we can boast about. Path One finds us lost and there is nothing that we can do to earn a different tomorrow. Path Two finds us hopeful because we have accepted the gift of grace that gives us a different tomorrow.
We must only boast in the Lord!
Copyright 1998 – 2021 Dennis J. Smock
Daily Living Ministries, Inc.
http://www.dailylivingministries.org
Support Daily Living Ministries
Subscribe to daily email delivery
Visit us on facebook