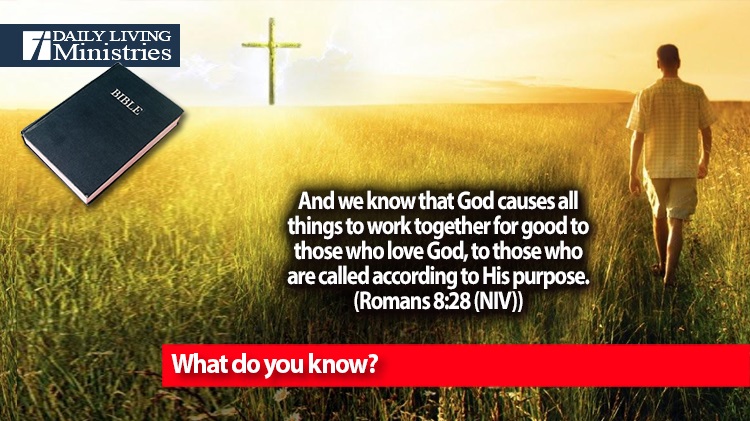 Be Still . . .
Devotionals for Daily Living ©
And we know that God causes all things to work together for good to those who love God, to those who are called according to His purpose.
(Romans 8:28 (NIV))
This is a difficult thing for many people to grasp, for they see only the immediate results of things as they happen. Humanity does not have the luxury of being able to see the long term consequences of any given event or series of events.
All too often we jump to worldly conclusions and do not see the "God" scheme of things. No matter what we may face in this life, we must remember that God is in control. If we are His through the grace and mercy granted through His Son Jesus Christ, then our ultimate good is heaven. If that is true, then everything that happens in this world can be taken as a temporary situation. This is hard to fathom when a loved one faces death or when a country faces terrorism, but, we must remember that what we see in the physical world is only a small fraction of the battle that goes on in the spiritual world.
If we hold steadfast in our faith in Jesus, then we are assured of our "good."
What do you know?
Copyright 1998 – 2021 Dennis J. Smock
Daily Living Ministries, Inc.
http://www.dailylivingministries.org
Support Daily Living Ministries
Subscribe to daily email delivery
Visit us on facebook