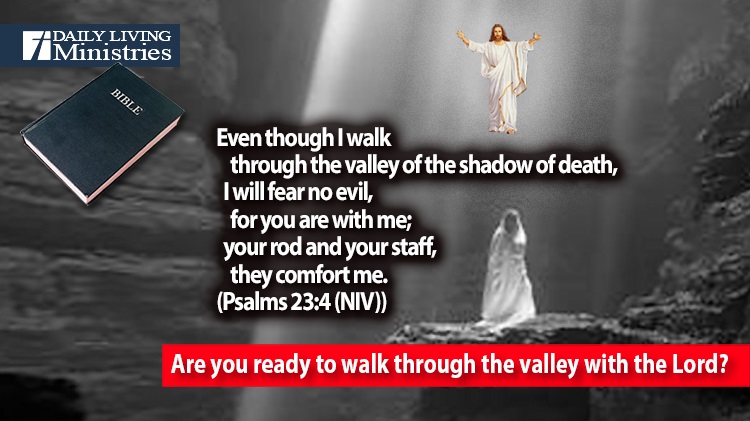 Be Still . . .
Devotionals for Daily Living ©
Even though I walk
      through the valley of the shadow of death,
   I will fear no evil,
      for you are with me;
   your rod and your staff,
      they comfort me.
(Psalms 23:4 (NIV))
I recently had an interesting revelation about this passage from of all people, Mr. T.
I remember watching something on television many years ago and he was preaching.
He brought a very valid point about this passage. We all walk through the valley at some time in our lives. We do not walk in the valley. God does not leave us in the valley, He walks with us through the valley. He strengthens us during our walk so that we may grow and mature in our faith. When we are "in" something, that indicates that we are there for a long time, and perhaps, even permanently. When we go "through" something, the word denotes an action that is temporary and will come to an end.
Re-read Psalms 23:4.
God will not leave you in the valley if you call upon the name of Jesus Christ as your personal Lord and Savior. He will walk with you and lead you through that valley to salvation. He will then use your experience in that valley to reach out to others who are still there. Remember that we are supposed to be ministers to each other. We minister best when we have the experience to be able to relate to others.
Allow God to walk you through your valleys, and then allow God to use you to walk with others through theirs. Keep your eyes on Jesus and walk where He leads you, for He will not lead you wrong. He will lead you where He needs you in order to be in ministry to others.
Do not fear where God leads you, for He will not lead you into anything that will lead to eternal harm.
Are you ready to walk through the valley with the Lord?
Copyright 1998 – 2021 Dennis J. Smock
Daily Living Ministries, Inc.
http://www.dailylivingministries.org
Support Daily Living Ministries
Subscribe to daily email delivery
Visit us on facebook