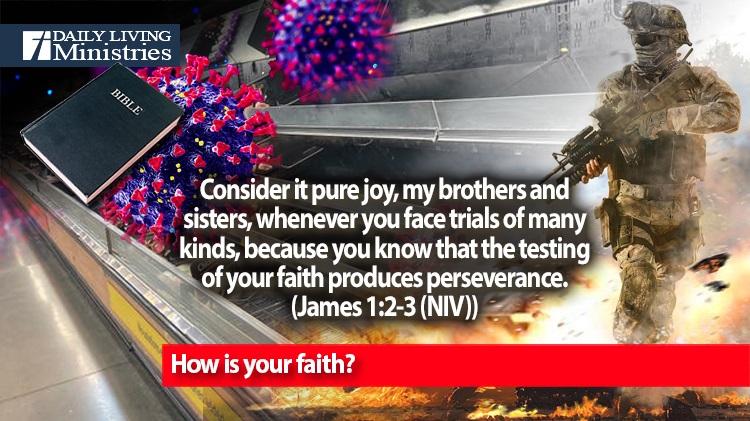 Be Still . . .
Devotionals for Daily Living ©
Consider it pure joy, my brothers and sisters, whenever you face trials of many kinds, because you know that the testing of your faith produces perseverance.
(James 1:2-3 (NIV))
Has your faith been tested over the last few years?
With all that is going on in the world, most of which is not even on our radar, many people are struggling. I recently read a report that death rates for young men in their mid-twenties to mid-thirties is up by an astronomical percentage. I don't recall the percentage of suicides within this group, but it is one of the biggest causes of death. This is sad in and of itself, but what I find the saddest about this statistic is that this generation is the first to be completely raised in a school system after prayer was removed from schools. This was the generation that had no moral foundation instilled in them. Many of their parents were in the generation that received some moral foundation, yet, they did not receive enough to realize the importance of what they were missing. Their children did not receive even the little amount that their parents received.
Train up a child in the way he should go,
And when he is old he will not depart from it.
(Proverbs 22:6 (NKJV))
The events of the last few years have not been easy for anyone, especially those who do not profess a faith in Jesus as their personal Lord and Savior. All that they see is the world and, as a result, they are left feeling helpless, hopeless and lost.
Has your faith grown? Has your faith matured over the last few years? Have you dug deeper into prayer and God's Word during these troubling times? Have you found yourself relying on God's promises even when you see no possible promising outcome from a worldly perspective? Let's face facts. The last few years have been very troubling, but we have been given a promise that we must cling to.
"I have told you these things, so that in me you may have peace. In this world you will have trouble. But take heart! I have overcome the world."
(John 16:33 (NIV))
We must have the faith to know beyond any doubt that Jesus is the only begotten Son of God. We must have the faith to know beyond any doubt that even though we are sinners, we have a risen Savior and His name is Jesus. We must have the faith to know beyond any doubt that all of His promises are "Yes." We must have the faith to know beyond any doubt to keep our eyes focused on Jesus and that through Him, we will persevere.
How is your faith?
Copyright 1998 – 2022 Dennis J. Smock
Daily Living Ministries, Inc.
http://www.dailylivingministries.org
Support Daily Living Ministries
Subscribe to daily email delivery
Visit us on facebook