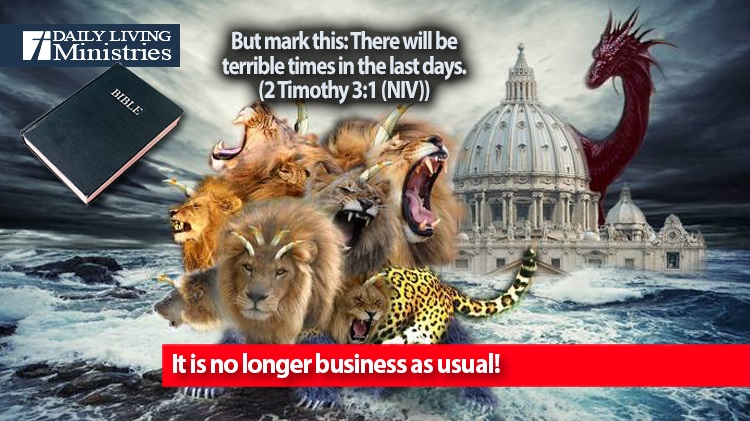 Be Still . . .
Devotionals for Daily Living ©
But mark this: There will be terrible times in the last days.
(2 Timothy 3:1 (NIV))
Things aren't falling apart. They are all falling into place!
Do you need to stop and read those two sentences again?
For the last several years we have watched as things slowly unfolded. A little here and a little there and we think that things will level out and return to normal. Then a little more happens and we still think the same thing. This reminds me of the story about the frog in a pot of water. The heat was so slowly turned up that the frog didn't really notice the change in temperature until it was too late. Satan has been slowly turning up the temperature, slowly doing his best to circumvent God's people and God's plan. Have you noticed the changes in the spiritual temperature of the world?
Recent years have seen things escalate, and in recent months they are ramping up even more. I have heard many people state that they feel the signs are converging, meaning that as things progress and escalate, things will intensify and get closer together just as a woman in labor. Perhaps we could even say just as the frequency and intensity of the bubbles when water begins to boil. Are you starting to feel the boiling water yet?
Things will get worse.
We read about Jerusalem being surrounded on all sides and no one comes to her aid when she is attacked. Recent events have now provided strategic weaponry to the very people who wish to destroy Israel. Alliances have been made and are being made that set the stage for the invasion from the north. It has also set the stage where Israel's greatest ally is no longer dependable. Have you ever wondered why the United States of America is not referenced in prophecy at all, especially concerning the attack on Israel? Have we just seen this quick removal from the world stage and as a result, has this given the forces of the enemy the courage to do what we know must happen?
Hold fast to Jesus, for we have been told what must take place. We have been told to stand firm in our faith. We have been told to expect to see things taking place in this world that will make people want to crawl under rocks and die.
I don't intend to come across as preaching doom and gloom. On the contrary, we have a hope that we cling to no matter what the enemy may send our way.
I have seen many people post things or make this comment, and I firmly believe that it is true. Normal is not returning. Jesus is!
I don't want to get into a debate about pre, mid or post tribulation rapture, for we truly don't know God's plans in detail. I do know that we are called to be bold in our faith. We are called to share the Gospel. We are called to stand firm and not deny Jesus. Are you prepared to do these very things if and when things do get worse before Jesus returns? I think that this needs to be repeated.
Things aren't falling apart. They are all falling into place!
It is no longer business as usual!
Copyright 1998 – 2021 Dennis J. Smock
Daily Living Ministries, Inc.
http://www.dailylivingministries.org
Support Daily Living Ministries
Subscribe to daily email delivery
Visit us on facebook