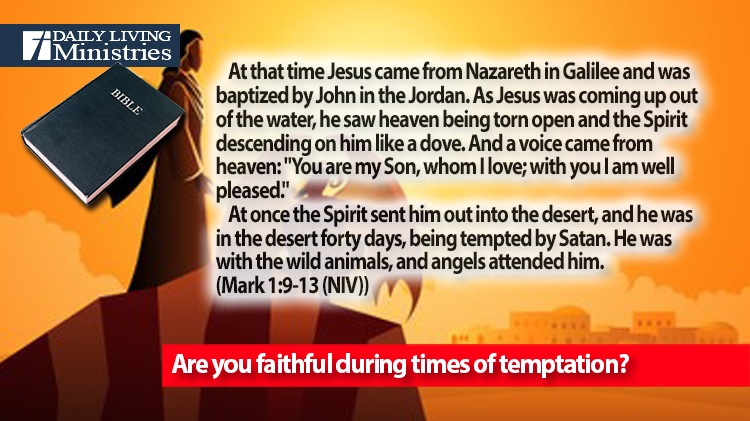 Be Still . . .
Devotionals for Daily Living ©
     At that time Jesus came from Nazareth in Galilee and was baptized by John in the Jordan. As Jesus was coming up out of the water, he saw heaven being torn open and the Spirit descending on him like a dove. And a voice came from heaven: "You are my Son, whom I love; with you I am well pleased."
     At once the Spirit sent him out into the desert, and he was in the desert forty days, being tempted by Satan. He was with the wild animals, and angels attended him.
(Mark 1:9-13 (NIV))
Do you ever feel like you have been sent into the desert and nothing is going right?
You are not alone !
Even Jesus faced this during His time on this earth.
What happened when Jesus faced this? Besides being tempted by Satan, angels attended Him. God did not abandon Him in the desert to face Satan all alone. He faced this experience and He still was surrounded by God's messengers of hope.
If we follow Jesus, we, too, will face our times in the desert or wilderness. We must not lose sight of the fact that Jesus promised
And surely I am with you always, to the very end of the age.
(Matthew 28:20b (NIV))
Jesus does not abandon us when we are in the desert. We simply tend to lose sight of Him. He is always there. It is us who, in our times of temptation, think that we are alone.
We must remember to have faith during these times.
Are you faithful during times of temptation?
Copyright 1998 – 2021 Dennis J. Smock
Daily Living Ministries, Inc.
http://www.dailylivingministries.org
Support Daily Living Ministries
Subscribe to daily email delivery
Visit us on facebook