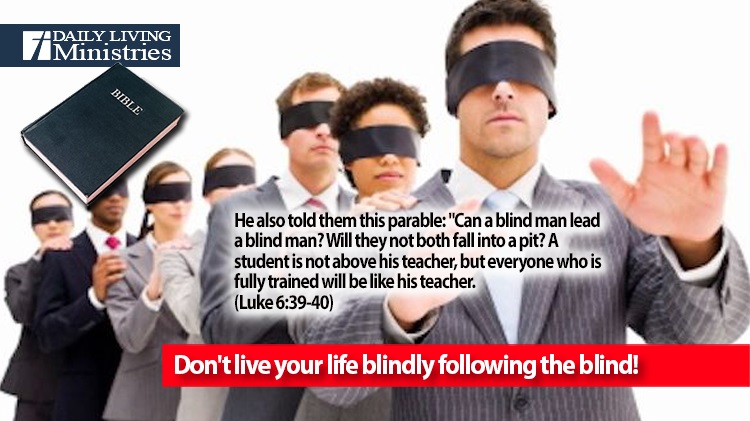 Be Still . . .
Devotionals for Daily Living ©
He also told them this parable: "Can a blind man lead a blind man? Will they not both fall into a pit? A student is not above his teacher, but everyone who is fully trained will be like his teacher.
(Luke 6:39-40 (NIV))
I often wonder if Jesus was referring to the events in human history that were yet to transpire when he spoke these words?
Think about these words with the perspective of today's world. We either have the option of following and believing the world or we can follow Jesus. The world is lost. It is blinded by the sin that it so loves. If the wages of sin is death, then if you follow the blindness of the world, you will fall into the pit that is associated with sin. Do not cling to anyone or anything that leads you to anywhere but Jesus. Only Jesus can lead you out of the blindness of this sinful, fallen world. He is our teacher. He is our Lord and He is our Savior.
It should be with humility that we seek His face. It should be with humility that we seek to learn. It should be with humility that we face the fact that in this lifetime we will never be fully trained. In fact, even after an eternity in His presence, we will still be His creation. If we can embrace the truth that Jesus is the teacher, we will no longer desire to be blindly lead by this world.
If you have not accepted Jesus as your personal Lord and Savior, now is the time to repent.
Don't live your life blindly following the blind!
Copyright 1998 – 2022 Dennis J. Smock
Daily Living Ministries, Inc.
http://www.dailylivingministries.org
Support Daily Living Ministries
Subscribe to daily email delivery
Visit us on facebook