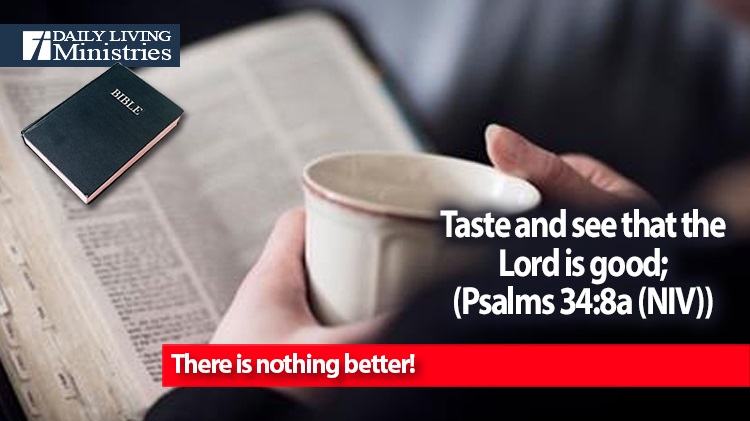 Be Still . . .
Devotionals for Daily Living ©
Taste and see that the Lord is good;
(Psalms 34:8a (NIV))
What is your favorite food?
What is it about that food that you like so much?
Is it the sweetness, the texture, the combination of ingredients, or is it all of these and more?
It is said that eating and drinking are the most intimate of our senses. Most of our other senses are external to us, but taste requires us to take something into our mouth and eventually into our body. We can touch something and immediately determine if it is hot or cold, smooth or rough, and many other possible options. We can look at something and know if it is still or moving, big or small or a number of other possible options. Many times, our external senses deceive us when we look at food. It may look strange, but once we take it into our body, we can and often have a different conclusion.
I am sure that you have heard the saying, "Garbage in. Garbage out." This applies to so many areas of our lives. Habits, relationships, work ethic and many more all suffer when we put something into them that is garbage. The same can be said for our spiritual life. If we associate with sin, then we will increase in our sins. If we associate with righteousness, our sins will hopefully decrease. If we turn to the Lord and taste of His goodness, we can put the garbage behind us and partake only of the sweetness of the salvation freely given to us at the cross. What the Lord offers is far better than anything the world has to offer. What the Lord offers is an intimacy that changes us from the inside out. In order for this to happen, we must taste of His goodness and accept His goodness through the atoning blood of Jesus.
Salvation is a personal matter. It is a very intimate matter. You have to trust the Lord enough to invite Him into your heart. You have to be willing to take that first taste of His goodness and mercy.
Have you taken that first taste?
There is nothing better!
Copyright 1998 – 2021 Dennis J. Smock
Daily Living Ministries, Inc.
http://www.dailylivingministries.org
Support Daily Living Ministries
Subscribe to daily email delivery
Visit us on facebook