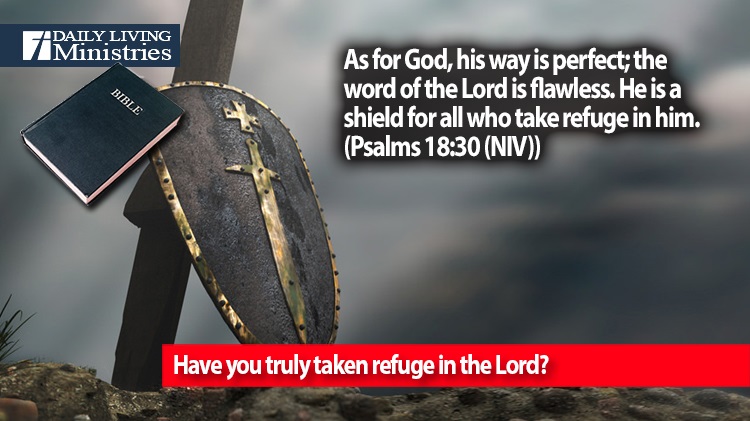 Be Still . . .
Devotionals for Daily Living ©
As for God, his way is perfect; the word of the Lord is flawless. He is a shield for all who take refuge in him.
(Psalms 18:30 (NIV))
Have you truly taken refuge in the Lord?
Think about that question, for your eternity lies in your answer.
Do the ever-increasing number of events unfolding in this world have you worried, or are you at complete peace that defies all worldly logic? Do you see the extremes that people will go to when things don't go as they desire, even when their desires are far from godly? Do you find yourself heartbroken because these people have believed the lie from the enemy? Are you saddened when someone curses God? I recently saw a video that had a segment where a man about fifty years old got right in the lens of the camera and in a very demonic voice proudly proclaimed that he liked killing babies!
We are told that the wheat and the tares will grow up evenly. We are told that good will be called evil and evil will be called good. We are told that a great delusion will fall over those who do not fear the Lord. We are told that there will be wars and rumors of wars. We are told that people will be lovers of themselves!
I personally believe that my last sentence is the root cause of everything since the fall from grace in the Garden of Eden. We want to do what we want to do and we want everyone to accept what we want to do. We have come to the point where we love ourselves so much that we fail to even have any glimmer of love for anyone else. I don't know about you, but this sounds just like the enemy when he was cast out of heaven. Satan wanted to be in control and he wanted to do things his way. Does this sound familiar to you?
There are two very distinct ways that we can be in respect to a relationship with the Lord. We can deny, despise, reject, and curse Him, or we can run to His open arms and find love, redemption, grace, mercy, and refuge. Now is the time to run to His open arms with a repentant heart. Do it before it is too late!
Once again I need to ask one very important question.
Have you truly taken refuge in the Lord?
Copyright 1998 – 2022 Dennis J. Smock
Daily Living Ministries, Inc.
http://www.dailylivingministries.org
Support Daily Living Ministries
Subscribe to daily email delivery
Visit us on facebook