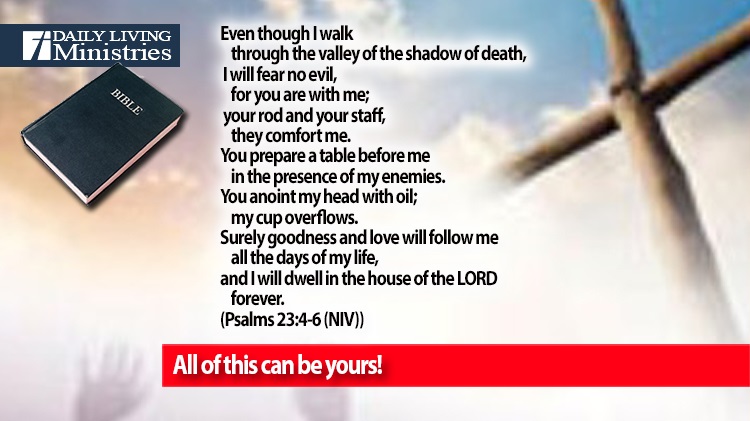 Be Still . . .
Devotionals for Daily Living ©
Even though I walk
     through the valley of the shadow of death,
I will fear no evil,
     for you are with me;
your rod and your staff,
     they comfort me.
You prepare a table before me
     in the presence of my enemies.
You anoint my head with oil;
     my cup overflows.
Surely goodness and love will follow me
     all the days of my life,
and I will dwell in the house of the LORD
     forever.
(Psalms 23:4-6 (NIV))
I love how the Lord gives you a word that you need to hear. I also love that His Word applies just as much today as it did when it was originally given to the one who wrote it down.
With all that is going on in the world, do you feel that you are walking through the valley of the shadow of death? I realize that all throughout human history, we have experienced hardships, but something feels so much different than anything that I have experienced in my life. Things are rapidly accelerating and the events are all converging on the period of time that we have been told about – the end of the age!
Does that instill fear within you, or do you find comfort in knowing that what is transpiring has been told to us long ago? Do you find comfort in knowing that God is unfolding His timeline according to His Will and according to His perfect timing? Perhaps the question that I need to ask is one of a more personal nature. In essence, do you find yourself looking up as things unfold? Do you find yourself longing for the glorious moment when you will be in His presence or does this thought bring fear to your heart? We have nothing to fear if we will only accept the grace and mercy freely given to us through the cross. There has never been a more pressing time in your life to accept the gift freely given to all who will simply acknowledge that they are a sinner in need of a Savior.
We don't know what tomorrow will bring, but we can place our faith in the One who holds all tomorrows in His hands. When you accept Jesus as your personal Lord and Savior, all of these things recorded by David will be yours and you, too, will dwell in the house of the Lord forever!
All of this can be yours!
Copyright 1998 – 2022 Dennis J. Smock
Daily Living Ministries, Inc.
http://www.dailylivingministries.org
Support Daily Living Ministries
Subscribe to daily email delivery
Visit us on facebook