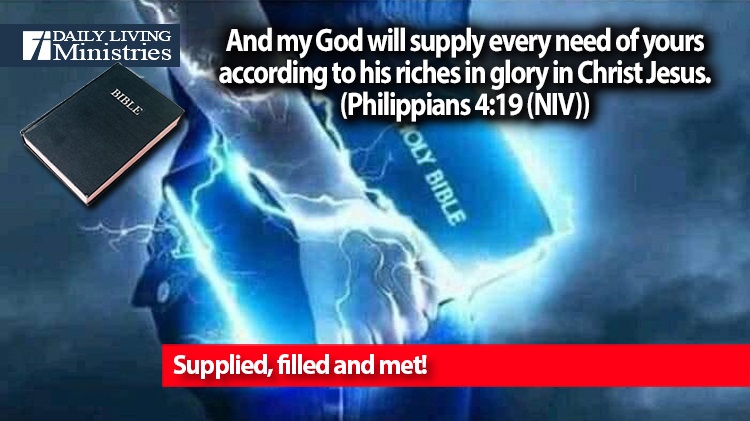 Be Still . . .
Devotionals for Daily Living ©
And my God will supply every need of yours according to his riches in glory in Christ Jesus.
(Philippians 4:19 (NIV))
What is it that you need right now?
Perhaps I should ask what it is that the world needs right now.
I may be going out on a limb with what I am about to say, but all that I am doing is presenting what I am seeing.
For years, those of us who profess a faith in Jesus as our personal Lord and Savior have been saddened by what we see in this world. We see good being called evil and evil being called good. We have constantly said that this world needs Jesus. Many of us have prayed for Jesus to be made manifest in this world. Recent events on many college campuses and in many different countries are indicating that He has agreed with our prayers. Even so, we have people who don't believe that this movement is what we have prayed for. Knowing human nature, I am sure that not everyone at these events has a completely pure heart and and completely pure motives. But we must remember that Jesus did not tell us to get our lives together and then come follow Him.
Jesus called sinners to repent. He called sinners to turn from their wicked ways and to follow Him. He will clean up lives in such a way that the sin will be left behind!
I have another question for you.
When you pray for something do you expect something to happen?
If you answered yes to this question, then you must come to the conclusion that the Lord has answered. It may not be how you would like it to be answered. It may not fit your denominational doctrine, or your particular worship style. It may not fit your understanding of who God is, but we must realize that we do not see things as He does.
For now we see only a reflection as in a mirror; then we shall see face to face. Now I know in part; then I shall know fully, even as I am fully known.
(1 Corinthians 13:12 (NIV))
We must remember that we do not have because we do not ask.
We have been praying for Jesus to be made manifest in this world.
I don't know about you, but from what I am seeing, the following is true.
Supplied, filled and met!
Copyright 1998 – 2023 Dennis J. Smock
Daily Living Ministries, Inc.
https://www.dailylivingministries.org
Support Daily Living Ministries
Subscribe to daily email delivery
Visit us on facebook