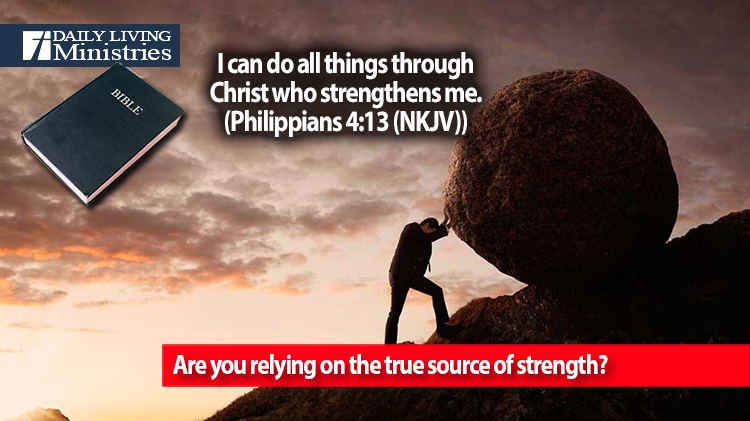 Be Still . . .
Devotionals for Daily Living ©
I can do all things through Christ who strengthens me.
(Philippians 4:13 (NKJV))
As I sit here tonight, this passage caught my attention. I feel weary. I feel like I have been beat up. I feel like I am swimming upstream against a current of unrighteousness and down right evil in this world. Everything that I see appears so far from what God desires that it breaks my heart. I can only imagine what it does to the very heart of God.
Do you find yourself like this? Do you look at the events unfolding in this world and all that you can do is muster a groan from your spirit? You are not alone in this. I often feel the same way. Take heart because this is the Holy Spirit working inside of us.
In the same way, the Spirit helps us in our weakness. We do not know what we ought to pray for, but the Spirit himself intercedes for us through wordless groans.
(Romans 8:26 (NIV))
We should find strength in our weariness. We should find strength in our trials. We should find strength in our groanings, for they are all indicators that we do not belong to the world. We belong to the Lord! He doesn't call us to rely on our strength. We are to trust and follow Him.
Does that change your perspective on Philippians 4:13?
Are you relying on the true source of strength?
Copyright 1998 – 2022 Dennis J. Smock
Daily Living Ministries, Inc.
http://www.dailylivingministries.org
Support Daily Living Ministries
Subscribe to daily email delivery
Visit us on facebook