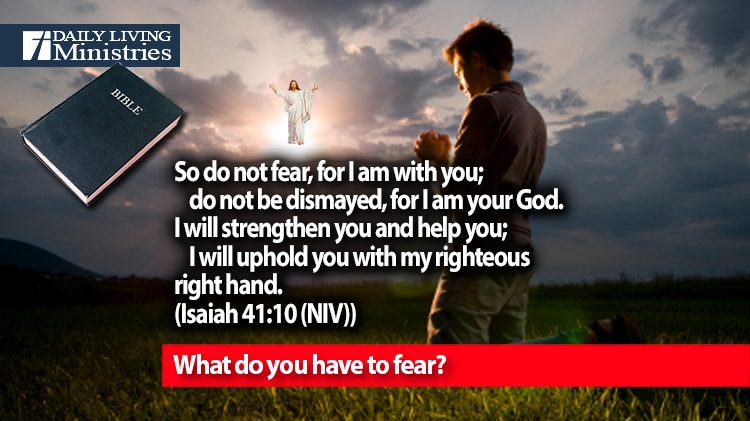 Be Still . . .
Devotionals for Daily Living ©
So do not fear, for I am with you;
      do not be dismayed, for I am your God.
I will strengthen you and help you;
      I will uphold you with my righteous right hand.
(Isaiah 41:10 (NIV))
There have been many times in human history where people faced uncertainty, but there have only been a few times in recorded history where the whole world faced catastrophic events. Noah is one example. Do you think that Noah was fearful while those all around him suffered? Personally, I believe that Noah had no fear at all as he faced the events that had been foretold. The key to Noah's lack of fear was simple. God was with him.
Why was God with Noah?
Noah lived his life in such a way that he found favor in the eyes of the Lord!
Is this how you live your life?
Think about that in the context of what is happening worldwide with wars and rumors of wars, food shortages, pandemics, and skyrocketing prices. Is the Lord with you as you face the things that are unfolding? Are you at peace while those around you are in panic mode?
I realize that these are serious questions, but they are called for because we are facing serious times. Jesus told us that we would face troubles in this world, and at this moment in time, those troubles are escalating and converging. Thankfully, we don't have to face the troubles with fear. We can face them with peace!
"I have told you these things, so that in me you may have peace. In this world you will have trouble. But take heart! I have overcome the world."
(John 16:33 (NIV))
Many people say that peace is the absence of war, but I believe that the Lord defines peace as the absence of fear. We only know peace by placing our faith and trust in Jesus as our personal Lord and Savior.
What do you have to fear?
Copyright 1998 – 2022 Dennis J. Smock
Daily Living Ministries, Inc.
http://www.dailylivingministries.org
Support Daily Living Ministries
Subscribe to daily email delivery
Visit us on facebook