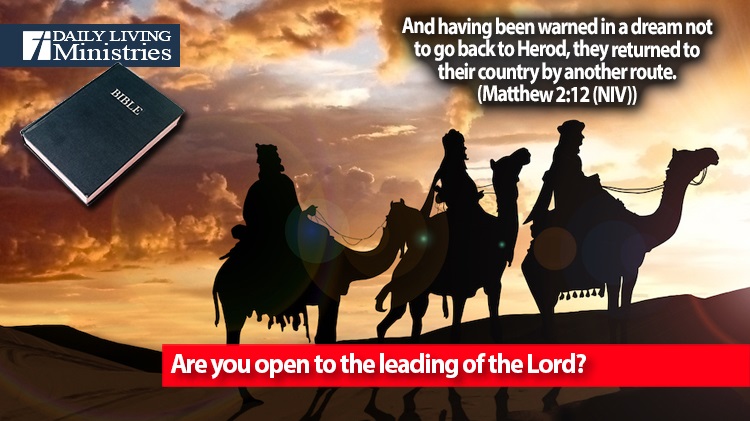 Be Still . . .
Devotionals for Daily Living ©
And having been warned in a dream not to go back to Herod, they returned to their country by another route.
(Matthew 2:12 (NIV))
Do you believe that the Lord speaks to people?
Perhaps I should ask if you believe that the Lord still speaks to people today, for we are told that He either spoke directly, sent angels, or gave people dreams all throughout the Old Testament and even in the account of the birth of Jesus in the New Testament. So, why do so many who profess a faith in Jesus as their personal Lord and Savior believe that the Lord doesn't speak to people today?
Have we become so overwhelmed by the distractions of this world that we don't allow His still, small voice to penetrate into our lives? Are we afraid to sit in silence because we are afraid of what we will hear? Are we afraid that we will have to change something that we don't want to change, so we don't even try to listen.
"Be still, and know that I am God;
(Psalm 46:10a (NIV))
If we want to hear from the Lord, we have to be prepared. We have to sit at His feet and be receptive to what He is saying. If you look at the story of the Magi from this perspective, things start to make sense. They had already been searching to see God. That is how they knew to follow the star. It only makes sense that God would then communicate with them by sending them a dream, after all, they had gone considerably out of their way to find Him. It also fit into His plan to protect Jesus, Joseph and Mary. This touches on another aspect of hearing from the Lord. When you ask God for things that are selfish in nature, you have the wrong focus. When you ask God for things that are according to His Will, you have the right focus and have positioned yourself to be receptive to whatever the Lord may say or do.
Are you open to the leading of the Lord?
Copyright 1998 – 2021 Dennis J. Smock
Daily Living Ministries, Inc.
http://www.dailylivingministries.org
Support Daily Living Ministries
Subscribe to daily email delivery
Visit us on facebook