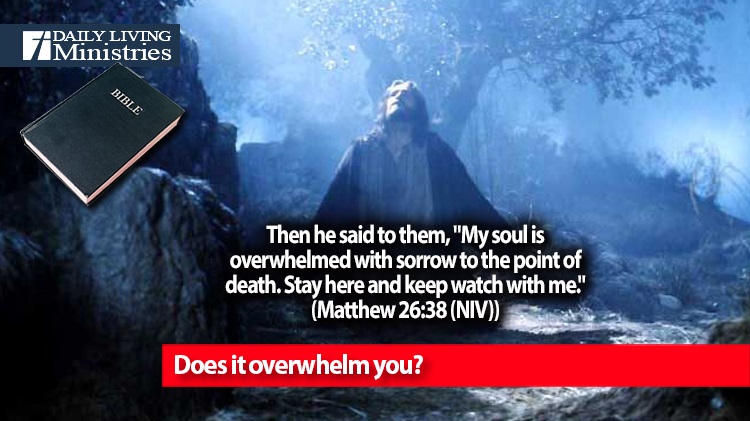 Be Still . . .
Devotionals for Daily Living ©
Then he said to them, "My soul is overwhelmed with sorrow to the point of death. Stay here and keep watch with me."
(Matthew 26:38 (NIV))
I hope that this puts the crucifixion into a more realistic context. Over the years, the church has so whitewashed this event that I honestly do not think that we realize just how excruciatingly painful and traumatic it was, even if the one going to the cross is the Son of God. We subconsciously think that because He was fully God that the pain and the fear were somehow less traumatic for the human aspects of Jesus. I have heard that people had speculated that He was able to disconnect from what He was going through, but this passage clearly indicates that this was not the case.
In order for God to forgive our sins, there had to be a man to live a perfect, sinless life. In order for God to forgive our sins, that perfect man had to willingly die in our place as a payment for our sins. We are familiar with God's plan of salvation, but I want to emphasize one crucial word, one crucial aspect.
Man!
In order for God's plan to be legally binding according to His Laws, the one who died for our sins had to be fully man. Jesus had to set aside his deity and fully embrace all of the sin, all of the pain, and all of the trauma of the crucifixion. He made a choice to be fully human, including all of the fear and all of the sorrow, as He faced the events of the crucifixion.
He did not take the easy way out! He did not abandon His fully human side in order to avoid the pain and the sorrow.
He bore all of our sin.
God made him who had no sin to be sin for us, so that in him we might become the righteousness of God.
(2 Corinthians 5:21 (NIV))
To use a theater term, Jesus never broke character. He was fully God who came to the world to be fully man, and He did just that even to death on the cross!
Have you ever tried to put yourself into His shoes? Have you ever taken a very realistic look at all that Jesus faced so that He could be the sacrificial lamb that saves us from our sins?
It overwhelmed Jesus. Does it overwhelm you?
Copyright 1998 – 2022 Dennis J. Smock
Daily Living Ministries, Inc.
http://www.dailylivingministries.org
Support Daily Living Ministries
Subscribe to daily email delivery
Visit us on facebook