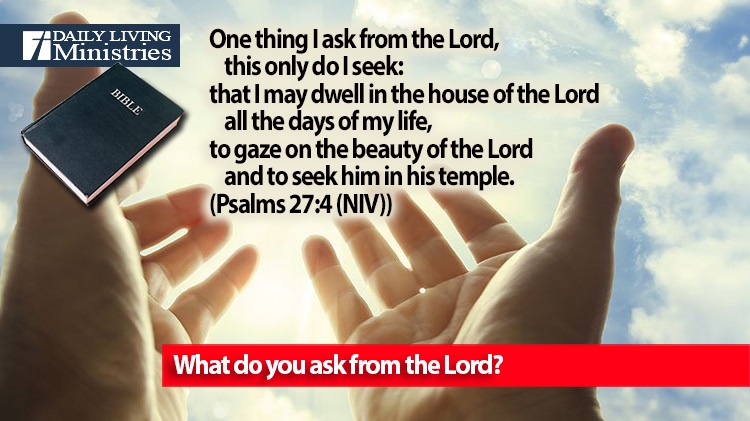 Be Still . . .
Devotionals for Daily Living ©
One thing I ask from the Lord,
     this only do I seek:
that I may dwell in the house of the Lord
     all the days of my life,
to gaze on the beauty of the Lord
     and to seek him in his temple.
(Psalms 27:4 (NIV))
I don't know about you, but most people probably have other options in mind when they seek something from the Lord.
Some turn to the Lord seeking health and healing for themselves or for loved ones. I fully understand how this can be a top priority when you consider the things that people seek from the Lord. But, we have to ask one important question. What are the motives?
Other people turn to the Lord seeking His assistance in turning around a financial situation or a family situation. These, too, are legitimate things to seek the Lord for assistance with. Again, we have to seriously consider the motives.
There are even those people who think that they aren't seeking anything because they have it all together. I honestly think that Jesus may have encountered this attitude with Martha when He went to Mary and Martha's house. Martha thought that she was doing what was required. She wasn't seeking the Lord. She was seeking approval based on social requirements. Jesus informed her otherwise.
"Martha, Martha," the Lord answered, "you are worried and upset about many things, but few things are needed—or indeed only one. Mary has chosen what is better, and it will not be taken away from her."
(Luke 10:41-42 (NIV))
Mary had chosen the very same thing that David desired. Both of them simply asked to be in His presence.
Take a long, hard, serious look at your faith. Do you love the things that you can get from a relationship with the Lord, or do you simply love the Lord? I realize that if you lump grace, mercy and salvation into the "things," they do come in as a very high rating in the grand scheme of things. However, if you truly love the Lord, then these things simply mean that you get to spend eternity in His presence, in His house, and in His temple gazing upon the beauty of the Lord. It is when you place the things of this world above the Lord that you start asking for worldly things. You ask with the wrong motives.
With this in mind, I have but one more question for you.
What do you ask from the Lord?
Copyright 1998 – 2023 Dennis J. Smock
Daily Living Ministries, Inc.
https://www.dailylivingministries.org
Support Daily Living Ministries
Subscribe to daily email delivery
Visit us on facebook