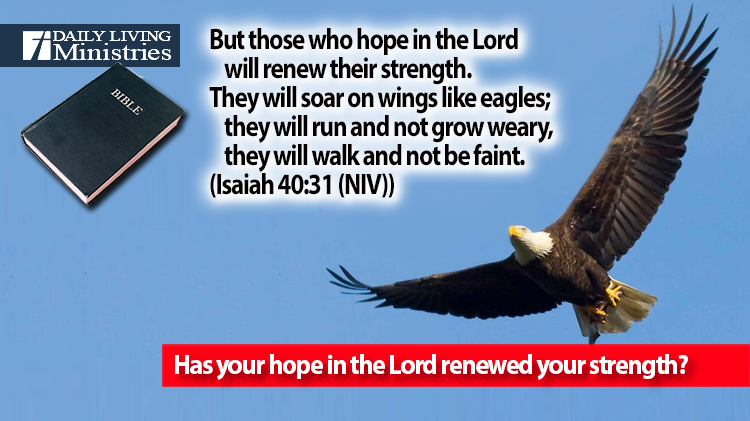 Be Still . . .
Devotionals for Daily Living ©
But those who hope in the Lord
      will renew their strength.
They will soar on wings like eagles;
      they will run and not grow weary,
      they will walk and not be faint.
(Isaiah 40:31 (NIV))
How have you been the last few years?
Do you find yourself growing weak, weary and faint because of all of the things going on in the world?
To be honest with you, I personally do not understand how someone who doesn't have a faith in Jesus can keep their sanity in all that has happened and continues to happen in this world. Perhaps that is why we see an increase in suicides and an increase in other choices that go against anything Godly and righteous. When things go badly in this world, too many people look for comfort in all of the wrong places. They should turn to Jesus!
I remember immediately after 9/11 and the massive influx of people into churches. They were looking for sense to be made out of the events that had transpired. I don't know the percentage of people who quickly fell away, but they did turn to God for a while. Today, if people aren't already in a church, if anything happens, they seem to ignore God completely, or even blame Him for the events. It is sad to see just how the attitudes towards God have changed in just a little over twenty years.
Hold fast to your faith!
Stand firm in the promises of God!
We must recognize that our hope is built on the rock, on the firm foundation that is our Lord Jesus. When we have accepted Jesus and fully rely on the hope that we have placed in Him, He will renew our strength. No matter what we may face in this world, we will not grow weary. We will not faint in the face of the enemy as he tries everything in his feeble power to turn the world away from God. I don't often quote hymns, but this should be our anthem in times of worldly trouble, for we have a risen Savior who has overcome the world.
My hope is built on nothing less
than Jesus' blood and righteousness;
I dare not trust the sweetest frame,
but wholly lean on Jesus' name.
On Christ, the solid Rock, I stand:
all other ground is sinking sand;
all other ground is sinking sand.
I bet that you started singing this as you read it. It should be so ingrained in the hearts and minds of those who profess a faith in Jesus that we sing it loudly and proudly as He renews our strength; as He lifts us up to soar on wings like eagles; as He gives us strength to run and not grow weary; and as He gives us strength to walk and not be faint.
Has your hope in the Lord renewed your strength?
Copyright 1998 – 2022 Dennis J. Smock
Daily Living Ministries, Inc.
http://www.dailylivingministries.org
Support Daily Living Ministries
Subscribe to daily email delivery
Visit us on facebook