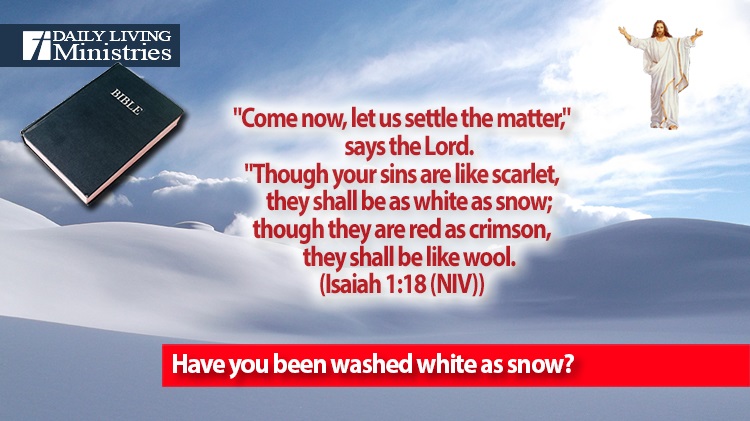 Be Still . . .
Devotionals for Daily Living ©
"Come now, let us settle the matter,"
     says the Lord.
"Though your sins are like scarlet,
     they shall be as white as snow;
though they are red as crimson,
     they shall be like wool.
(Isaiah 1:18 (NIV))
Have you ever gotten something red on a white article of clothing? Perhaps you have accidentally washed a red article of clothing with something white! What were the results in these situations? Where you ever able to get the red out or was the pristineness of the white ruined?
The purity of white, once tarnished, can never be restored without ruining the white garment in question. It is true that you can bleach the article of clothing back to a close proximity of white, but in most cases, if this is done, the article is never the same pristine white that it once was. Quit often, if the red doesn't completely ruin the garment, the treatment to remove it does! If it doesn't, there is always a telltale mark, there is always a guilty stain.
Think about that in context to human nature and our sinful, fallen ways. We are covered in the red of sin and death. There is nothing that we can do to clean ourselves. There will always be a guilty stain. We may be able to hide it at times, but it is always there. It is always a reminder of our shortcomings. It is a reminder of our sin! It is this very stain of sin that Isaiah foretold of being washed as white as snow. It is this very stain of sin that Jesus came to this earth to redeem us from. It is this very stain of sin that will be completely removed from our lives so that the Lord will not see it any more.
Returning a white garment that has been stained red back to its original state requires some very powerful cleansing. Jesus came to this earth to offer us the power and the way to return to our original sin free life. How do you claim that power? It is as easy as ABC!
A is for admit that you are a sinner in need of a savior.
B is for believe in your heart that Jesus Christ died for your sins, was buried, and that God raised Him from the dead.
C is for call upon the name of the Lord Jesus.
It is time to accept the cleansing power available through Jesus!
Have you been washed white as snow?
Copyright 1998 – 2021 Dennis J. Smock
Daily Living Ministries, Inc.
http://www.dailylivingministries.org
Support Daily Living Ministries
Subscribe to daily email delivery
Visit us on facebook