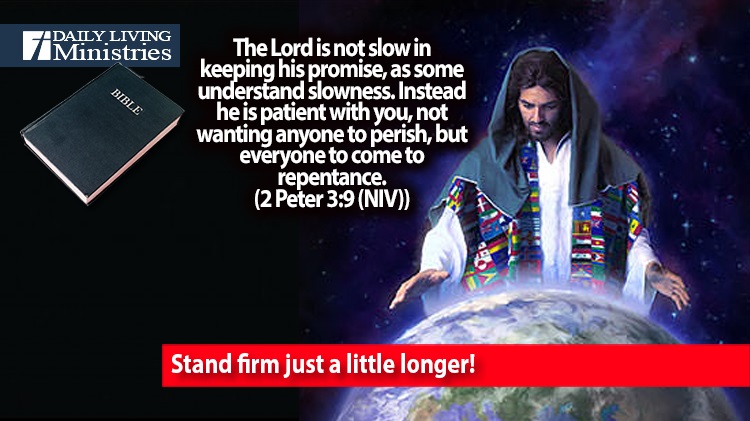 Be Still . . .
Devotionals for Daily Living ©
The Lord is not slow in keeping his promise, as some understand slowness. Instead he is patient with you, not wanting anyone to perish, but everyone to come to repentance.
(2 Peter 3:9 (NIV))
We have heard this passage many times during our lives. I would even venture to say that each of us have been personally thankful that the Lord was willing to wait for us to come to repentance.
At what point does He say enough is enough?
Let me explain that question. The Lord longs for everyone to come to repentance and He gives us the time that is needed to come to that realization. He gives us opportunities to repent and to turn to Him, but there will come a day when His patience will be gone and His righteousness will demand justice. Is there a line that we collectively, as sinful humanity, must cross? How close are we to this point in history? Is there the same type of line for us as individuals? Have some people already crossed that line?
We seem to be seeing a wide chasm with respect to this. We are told about this in the following parable.
Jesus told them another parable: "The kingdom of heaven is like a man who sowed good seed in his field. But while everyone was sleeping, his enemy came and sowed weeds among the wheat, and went away. When the wheat sprouted and formed heads, then the weeds also appeared.
"The owner's servants came to him and said, 'Sir, didn't you sow good seed in your field? Where then did the weeds come from?'
"'An enemy did this,' he replied.
"The servants asked him, 'Do you want us to go and pull them up?'
"'No,' he answered, 'because while you are pulling the weeds, you may uproot the wheat with them. Let both grow together until the harvest. At that time I will tell the harvesters: First collect the weeds and tie them in bundles to be burned; then gather the wheat and bring it into my barn.'"
(Matthew 13:24-30 (NIV))
I find it interesting that the Lord said to let both the wheat and the weeds grow until the harvest. The concept is for each kind to mature so that it is fully recognizable. In other words, God is waiting for the true nature to be fully revealed. Think about that in terms of what we see going on in the world. We pray for God's will to be done. We think that we see and understand what is wheat and what is weed, but is God telling us to be patient and let the weeds irreversibly tell on themselves as they mature in their nature?
We must learn to wait for the Lord's timing. We must learn to be patient as we wait for His righteousness. We must allow the weeds to reveal their complete true nature!
Stand firm just a little longer!
Copyright 1998 – 2021 Dennis J. Smock
Daily Living Ministries, Inc.
http://www.dailylivingministries.org
Support Daily Living Ministries
Subscribe to daily email delivery
Visit us on facebook