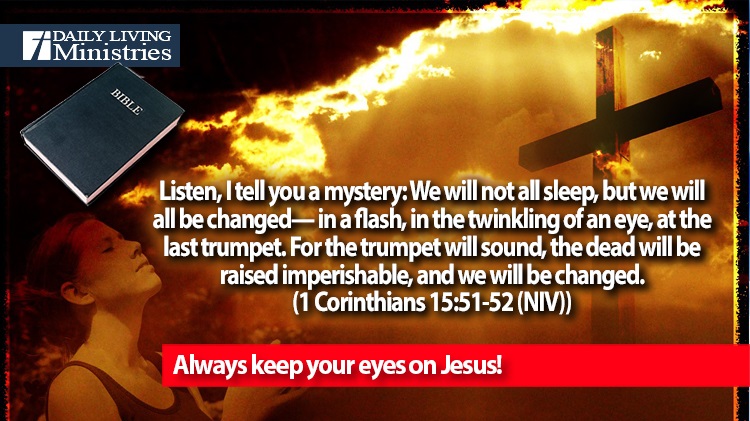 Be Still . . .
Devotionals for Daily Living ©
Listen, I tell you a mystery: We will not all sleep, but we will all be changed— in a flash, in the twinkling of an eye, at the last trumpet. For the trumpet will sound, the dead will be raised imperishable, and we will be changed.
(1 Corinthians 15:51-52 (NIV))
Do you believe that this is true?
Do you look forward to the day that this will happen?
According to a recent article posted on a large news network's site, if you fear this, then you are suffering from rapture anxiety. The article states that this is recognized by "some" faith experts and mental health experts as a type of religious trauma.
Do you feel traumatized?
The article equates this to a "scary campfire story."
Do you feel scared?
They even tried to equate this with fear and rejection!
Are you fearful? Do you feel rejected?
The article proceeded to say that many feel that the church no longer matches their personal values!
There is so much wrong with this on so many levels. I am not even going to dig into these comments and provide a Biblical rebuttal. If you profess a faith in Jesus as your personal Lord and Savior and you hold fast to Biblical truths, then you can draw your own conclusions. My concern, and the concerns of many others as well, is that this is just a precursor to persecution of those who hold fast to Biblical truths. If someone who rejects Biblical teaching can claim that they suffered mental health issues because of the truth, then that opens things up for who knows what, including persecution of anyone who professes a faith in Jesus and His return! Many countries are now saying that sharing the Gospel is a hate crime!
We definitely are living in some very interesting times. Don't let the world sway you. Don't let the fear of persecution make your faith falter. We have nothing to fear. If we profess a faith in Jesus, we are made sons and daughters of the Living God! He doesn't change for us. We approach Him in humble repentance! His truth is eternal. We approach Him only through the cross and Him crucified!
Jesus answered, "I am the way and the truth and the life. No one comes to the Father except through me.
(John 14:6 (NIV))
Always keep your eyes on Jesus!
Copyright 1998 – 2022 Dennis J. Smock
Daily Living Ministries, Inc.
https://www.dailylivingministries.org
Support Daily Living Ministries
Subscribe to daily email delivery
Visit us on facebook