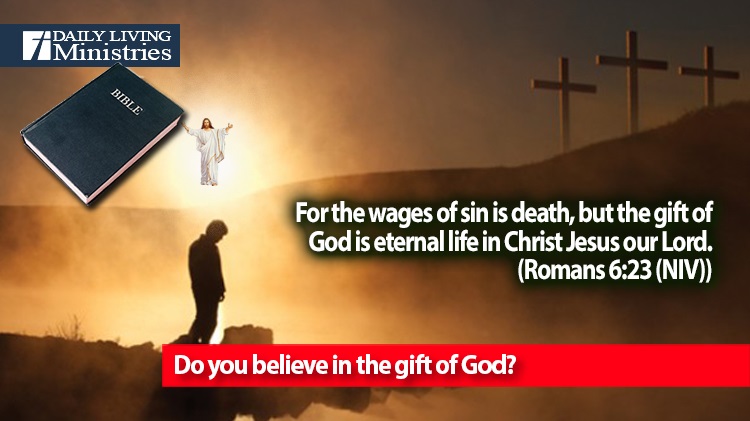 Be Still . . .
Devotionals for Daily Living ©
For the wages of sin is death, but the gift of God is eternal life in Christ Jesus our Lord.
(Romans 6:23 (NIV))
I don't know about you, but that is one wage that I do not want to collect, and if you don't repent, it is one that you will collect.
I realize that this statement is rather harsh, but if you stop to think about the consequences of not repenting and accepting Jesus, then this statement is actually sugar coated.
Let me take a step back and ask one important question. What do you think of when you think of death? If you only think of the cessation of the physical body, you are missing out on the eternal aspect and consequences of your existence. Humanity is not simply a physical creature. We are not simply a temporary physical existence with a spirit and soul. We are an eternal spirit and soul with a temporary physical body. We are only passing through this world. This world is not our home! With this in mind, there is another type of death that is far worse than physical death. There is an eternal death that the enemy wants you to not know about. He will do anything that he can to make you think that it isn't real. He wants to destroy you, both body and soul, for he hates humanity.
Do not be afraid of those who kill the body but cannot kill the soul. Rather, be afraid of the One who can destroy both soul and body in hell.
(Matthew 10:28 (NIV))
If you have never heard this in this way, it may be time to pay attention. God doesn't want any to perish, but that decision is your. He can't make it for you. All that He can do, and has done, is offer a way for you to escape this death. He has provided a sinless, spotless sacrifice through Jesus to take all of the sin of everyone who has ever lived. All that you have to do is accept this great gift of amazing grace!
You have been set free from sin and have become slaves to righteousness.
(Romans 6:18 (NIV))
All that you have to do is believe!
For God so loved the world that he gave his one and only Son, that whoever believes in him shall not perish but have eternal life. For God did not send his Son into the world to condemn the world, but to save the world through him. Whoever believes in him is not condemned, but whoever does not believe stands condemned already because they have not believed in the name of God's one and only Son.
(John 3:16-18 (NIV))
I have one more very important question to ask.
Do you believe in the gift of God?
Copyright 1998 – 2023 Dennis J. Smock
Daily Living Ministries, Inc.
https://www.dailylivingministries.org
Support Daily Living Ministries
Subscribe to daily email delivery
Visit us on facebook