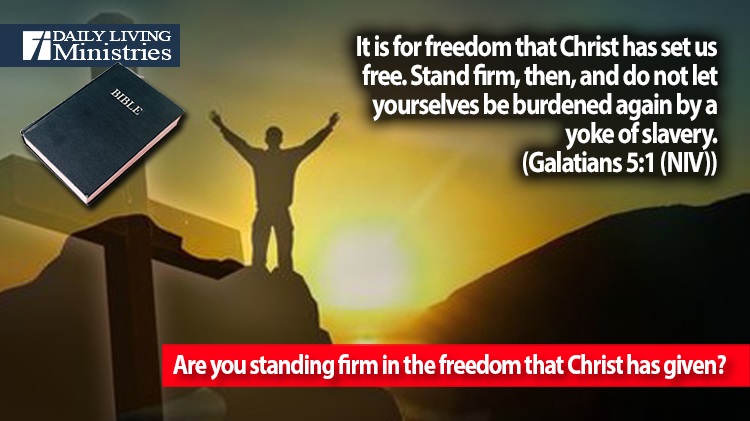 Be Still . . .
Devotionals for Daily Living ©
It is for freedom that Christ has set us free. Stand firm, then, and do not let yourselves be burdened again by a yoke of slavery.
(Galatians 5:1 (NIV))
What is freedom to you?
If you are a follower of Jesus, then freedom means something different from how the world defines it. It has such a deeper meaning and carries with it a longer lasting impact than what the world calls freedom. Worldly freedom can be gone in an instant, but the freedom that Jesus came to offer lasts an eternity. Worldly freedom is good, for with it comes the freedom to worship as you please. Worldly freedom also has its drawbacks, for worldly freedom allows us to do things that the world sees as appropriate even if they are not right in the eyes of God. Freedom through the atoning blood of Jesus washes away all the sins of the world. We are made right in the eyes of God. When we are made right in the eyes of God, we should long to strive toward the perfection that we are being called to. We are not to use this freedom as an excuse to return to our sins.
Live as free people, but do not use your freedom as a cover-up for evil; live as God's slaves.
(1 Peter 2:16 (NIV))
You, my brothers and sisters, were called to be free. But do not use your freedom to indulge the flesh; rather, serve one another humbly in love.
(Galatians 5:13 (NIV))
I love freedom! I also love knowing that there are boundaries to this freedom. Those boundaries protect us. They nurture us and they guide us into righteousness in the eyes of God. Thankfully, we have the Holy Spirit to guide us if we will only listen. Does a person who is freed from prison immediately turn around and asked to be placed back in prison? Why should we, who are freed from the prison, from the bondage of sin and death, immediately return to sin?
Now the Lord is the Spirit, and where the Spirit of the Lord is, there is freedom.
(2 Corinthians 3:17 (NIV))
We must stand firm. We must keep our eyes focused on Jesus. We must cling to the freedom that was given to us by Jesus.
Are you standing firm in the freedom that Christ has given?
Copyright 1998 – 2022 Dennis J. Smock
Daily Living Ministries, Inc.
http://www.dailylivingministries.org
Support Daily Living Ministries
Subscribe to daily email delivery
Visit us on facebook