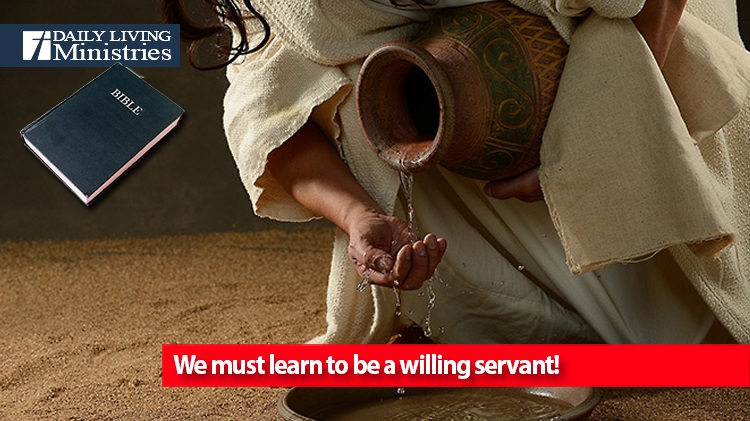 Be Still . . .
Devotionals for Daily Living ©
When the ten heard about this, they became indignant with James and John. Jesus called them together and said, "You know that those who are regarded as rulers of the Gentiles lord it over them, and their high officials exercise authority over them. Not so with you. Instead, whoever wants to become great among you must be your servant, and whoever wants to be first must be slave of all. For even the Son of Man did not come to be served, but to serve, and to give his life as a ransom for many."
(Mark 10:41-45 (NIV))
This is a lesson that we still have trouble with today. Every church has a few select people who feel that they have to run the whole church. They feel that unless they are involved, it isn't done correctly. Perhaps it is simply a matter of ego or power. I hate to say this, but perhaps we are all guilty of just such behavior from time to time. No matter what the cause, it is not Biblical. Jesus spoke against this. He taught that we are not to desire authority, but to give of ourselves freely.
Where do you fall in the spectrum of authority? Do you long for people to cater to your every whim? Do you long to be pampered? Do you want people to jump to attention when you enter a room? What does this say about this type of person? Which of the following traits does this type of behavior exemplify?
But the fruit of the Spirit is love, joy, peace, patience, kindness, goodness, faithfulness, gentleness and self-control. Against such things there is no law.
(Galatians 5:22-23 (NIV))
Jesus turned the world upside down. The Son of God, who has all authority, came to serve. How can we, who have no authority, desire it for ourselves? Do we think of ourselves as better than Jesus? In other words, we have elevated ourselves to a position of worship.
There is only one who is worthy of all worship. There is only one who is worthy of all praise. We must present ourselves humbly at His throne.
Humble yourselves, therefore, under God's mighty hand, that he may lift you up in due time.
(1 Peter 5:6 (NIV))
In all things that you do, do them as if you were doing them for God.
We must learn to be a willing servant!
Copyright 1998 – 2022 Dennis J. Smock
Daily Living Ministries, Inc.
http://www.dailylivingministries.org
Support Daily Living Ministries
Subscribe to daily email delivery
Visit us on facebook