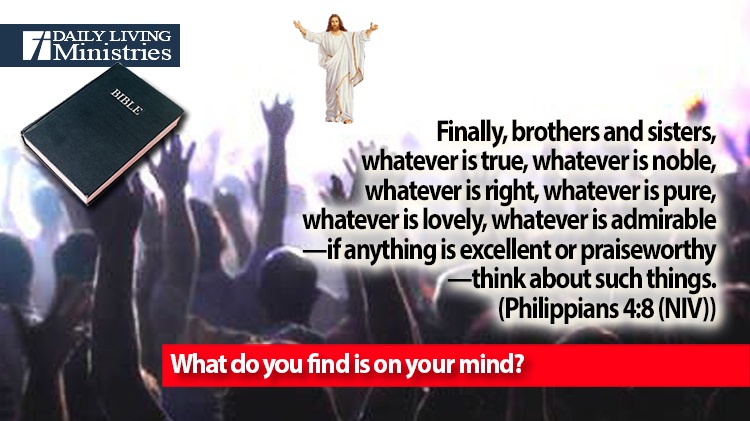 Be Still . . .
Devotionals for Daily Living ©
Finally, brothers and sisters, whatever is true, whatever is noble, whatever is right, whatever is pure, whatever is lovely, whatever is admirable—if anything is excellent or praiseworthy—think about such things.
(Philippians 4:8 (NIV))
If ever there was a time to take these words to heart, that time is now. With all that is going on in the world, we need to focus, we must focus, on what the Lord calls true, noble, right, pure, lovely, admirable, excellent or praiseworthy. We must focus on things that are contrary to what the world tells us are important. We are at the time, and I honestly believe that we have been there for a while, when good is called evil and evil is called good. In fact, I just saw a news report that claims a European country has now labeled quoting Bible passages as hate speech.
Does that surprise you?
Do you think that things will get better in this world?
Do you think that you are safe because of where you live?
Take a look around you. What do you see? Is it anything like what you remember when you were much younger? Is it anything like what you remember from just a few short years ago? Do things appear to be rapidly accelerating with the impending end result that professing a faith in Jesus finds you being persecuted and possibly executed? This is happening in many countries. We think that it can't happen where we live, but did we think that we would be where we are just a few short years ago?
"I have told you these things, so that in me you may have peace. In this world you will have trouble. But take heart! I have overcome the world."
(John 16:33 (NIV))
This world is in a mess. If you study God's Word, you know how it ends. Personally, I never thought that what I am seeing unfold right before me would have happened in my lifetime. It is time to focus on Jesus. He is true, noble, right, pure, lovely, admirable, excellent and praiseworthy.
Rejoice in the Lord always. I will say it again: Rejoice! Let your gentleness be evident to all. The Lord is near. Do not be anxious about anything, but in every situation, by prayer and petition, with thanksgiving, present your requests to God. And the peace of God, which transcends all understanding, will guard your hearts and your minds in Christ Jesus.
(Philippians 4:4-7 (NIV))
We have a promise that no matter what we may face in this world, the peace of God will guard our hearts if we focus on Jesus.
What do you find is on your mind?
Copyright 1998 – 2022 Dennis J. Smock
Daily Living Ministries, Inc.
http://www.dailylivingministries.org
Support Daily Living Ministries
Subscribe to daily email delivery
Visit us on facebook