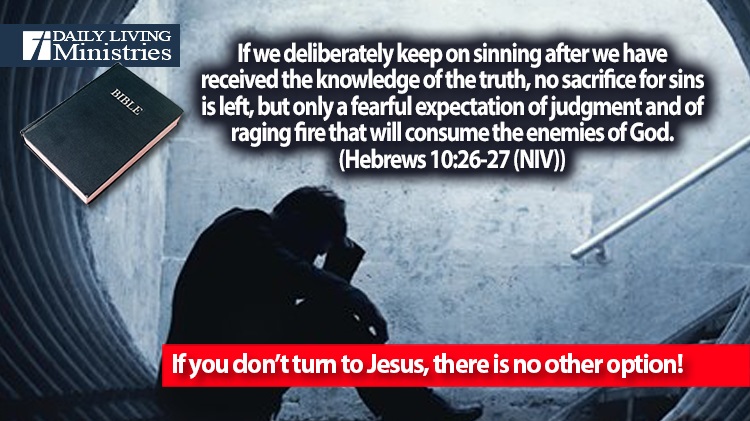 Be Still . . .
Devotionals for Daily Living ©
If we deliberately keep on sinning after we have received the knowledge of the truth, no sacrifice for sins is left, but only a fearful expectation of judgment and of raging fire that will consume the enemies of God.
(Hebrews 10:26-27 (NIV))
I recently heard this passage explained in a way that I had never thought of, and it makes perfect sense!
When we read this passage, we come to the conclusion that if we continue to sin after accepting Jesus as our personal Lord and Savior, we will have no recourse, no way to redeem ourselves. Is that truly what this passage means? If we choose to follow Jesus, we will still sin because we are only human. We will still make mistakes. We will still sin. The key to this is that we have professed a faith in Jesus and we are striving to walk in His ways. We have not only received the knowledge of the truth, but we have accepted it as well. We can repent and return to what is right.
Perhaps the easiest way to explain this is to clarify that there is a difference between receiving the knowledge of the truth and accepting the knowledge of the truth. To use an example, if someone gives you a Bible, you have received the knowledge of the truth, but until you open it and understand that we are all sinners in need of a Savior, you have not personally accepted the life giving message that it contains. If you go so far as to make a proclamation that the message of the cross is foolishness and that it could never be how God plans on offering grace, then you have rejected the knowledge of the truth. God has established one way to receive salvation and if you reject that one way that He created, there is absolutely nothing else that you can do. We can't tell God that our way is better!
The old covenant required continual sacrifices. We could never be made eternally clean by these sacrifices. The new covenant requires us to accept the perfect sacrifice of Jesus as our single and eternal way to redemption.
If we reject God's plan of redemption that replaced the continual sacrifices with a single, perfect Lamb, then nothing can ever be used to replace Jesus. Nothing more can ever be used redeem us. Jesus is the only way to the Father!
Jesus answered, "I am the way and the truth and the life. No one comes to the Father except through me.
(John 14:6 (NIV))
If you don't turn to Jesus, there is no other option!
Copyright 1998 – 2021 Dennis J. Smock
Daily Living Ministries, Inc.
http://www.dailylivingministries.org
Support Daily Living Ministries
Subscribe to daily email delivery
Visit us on facebook