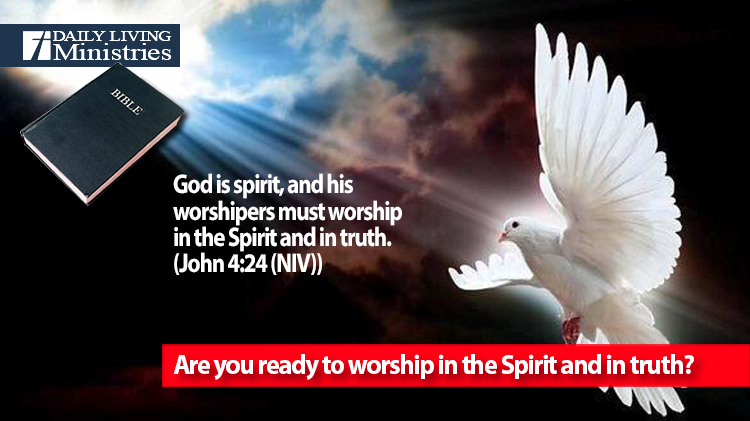 Be Still . . .
Devotionals for Daily Living ©
God is spirit, and his worshipers must worship in the Spirit and in truth.
(John 4:24 (NIV))
Is it really this simple?
Humanity has made things so complicated. We go through the motions set before us by other people thinking that is what will bring us closer to the Lord. We have built grand buildings. We have employed elaborate services. We have developed a system of worship, but do these things really draw us closer to the Lord? According to the words of Jesus recorded in Matthew, they don't.
They worship me in vain; their teachings are merely human rules.
(Matthew 15:9 (NIV))
Are we guilty of following human rules, too?
If you are familiar with what is happening on many college campuses right now, you know that God is moving, and the best part is that He is not following human rules. He is doing it when people simply humble themselves and seek Him through prayer and repentance. There is no set ritual. There is no set routine. There is only a true sense of submission. People are kneeling in prayer. People are prostrating themselves at the alter or in the aisles. They don't care what people think. They only seek God in truth and sincerity.
Therefore, I urge you, brothers and sisters, in view of God's mercy, to offer your bodies as a living sacrifice, holy and pleasing to God—this is your true and proper worship.
(Romans 12:1 (NIV))
We need to open our hearts in this manner. We need to freely and openly come to the Lord with only one thing in mind. That one thing is to be open to whatever the Lord has for us.
What then shall we say, brothers and sisters? When you come together, each of you has a hymn, or a word of instruction, a revelation, a tongue or an interpretation. Everything must be done so that the church may be built up.
(1 Corinthians 14:26 (NIV))
What builds up the church? Is it man made ritual or Spirit filled leadings?
With that in mind, I want to ask a question. Would you be open to the leadings of the Holy Spirit if at your next church service nothing went as planned and people were praying, weeping tears of joy, and being healed? I pray that this sounds wonderful to you! Are you ready for such a thing?
Are you ready to worship in the Spirit and in truth?
Copyright 1998 – 2023 Dennis J. Smock
Daily Living Ministries, Inc.
https://www.dailylivingministries.org
Support Daily Living Ministries
Subscribe to daily email delivery
Visit us on facebook