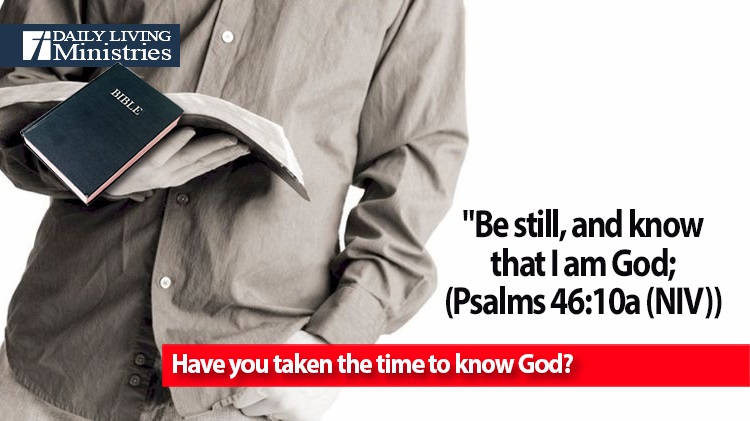 Be Still . . .
Devotionals for Daily Living ©
"Be still, and know that I am God;
(Psalms 46:10a (NIV))
Are you able to be still?
Does the sound of silence become so overwhelming that you get up to do something? Perhaps you turn on the television to distract your mind. What does this say about your ability to sit in silence? Are you afraid of what you will hear? Perhaps you are afraid of who you will hear it from? Something deep inside of us knows that God comes to us in the quiet moments.
The Lord said, "Go out and stand on the mountain in the presence of the Lord, for the Lord is about to pass by."
Then a great and powerful wind tore the mountains apart and shattered the rocks before the Lord, but the Lord was not in the wind. After the wind there was an earthquake, but the Lord was not in the earthquake. After the earthquake came a fire, but the Lord was not in the fire. And after the fire came a gentle whisper.
(1 Kings 19:11-12 (NIV))
Elijah did not ignore the gentle whisper. He had waited through all of the things that the world recognizes as symbols of power and authority, but he knew that is not how God speaks to us. Elijah answered the gentle whisper.
Are you afraid of the gentle whisper that you may hear when all of the world has been turned off and tuned out? Are you afraid to be still and listen for that gentle whisper? Do you try to drown out the gentle whisper with the distractions of the world?
A gentle whisper is the voice of intimacy. It is the voice that is used when someone tells you something that is only meant for you. God has something that He wants to tell you and it is only meant for you. He has other intimate whispers for each of us. He is not going to shout to the world what He wants to tell you and only you. He is going to whisper. You must be willing to be still in His presence so that you can hear and understand the gentle whisper. Are you willing to overcome the fear of the gentle whisper from God?
Turn off the television. Tune out the world. Open up your Bible and dive deeply into the pages of His Word. When you make this a daily habit, you will be able to be still in His presence. You will know Him as your God and Father. You will know Him as your redeemer!
Have you taken the time to know God?
Copyright 1998 – 2021 Dennis J. Smock
Daily Living Ministries, Inc.
http://www.dailylivingministries.org
Support Daily Living Ministries
Subscribe to daily email delivery
Visit us on facebook