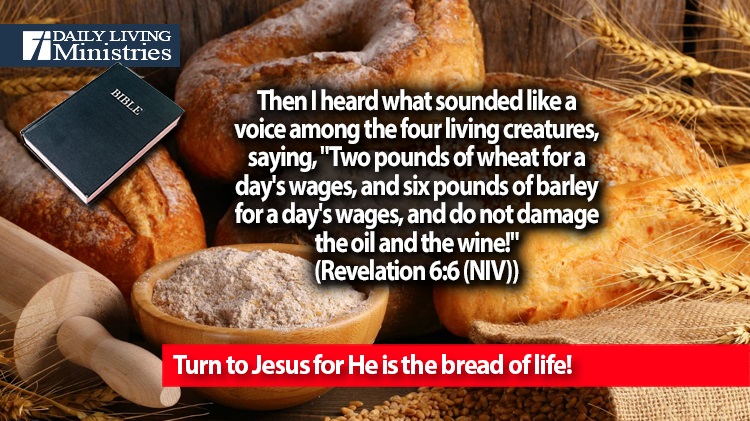 Be Still . . .
Devotionals for Daily Living ©
Then I heard what sounded like a voice among the four living creatures, saying, "Two pounds of wheat for a day's wages, and six pounds of barley for a day's wages, and do not damage the oil and the wine!"
(Revelation 6:6 (NIV))
like this as they become a reality for far more people than isolated instances. Two years ago it was toilet paper and other paper products. Recent events see us facing infant formula shortages. A large number of large food processing plants have burned. International trade is uncertain with many of the countries that are the leading producers of grain unable to yield a crop. When was the last time that you actually walked through a grocery store that was fully stocked? When was the last time that you filled up your cars? Everyone is experiencing sticker shock and there appears to be no end in sight!
When this was written, wheat and barley were the basis of the diets for the common people. Oil and wine were a necessity, but many scholars believe this reference to mean that the wealthy will not be as impacted as everyone else. Still, shortages and prices are going up. I don't believe that we are truly at the point that this passage speaks of, but just how close are we?
What do you see unfolding right before our eyes?
Are we having first hand experience of the beginnings of the events foretold of in this passage?
No one truly knows the exact unfolding of the events that God has planned. All that we can do is keep our eyes focused on Jesus! He is our rock. He is our fortress. He is our firm foundation no matter what we may face.
Jesus answered, "It is written: 'Man shall not live on bread alone, but on every word that comes from the mouth of God.'"
(Matthew 4:4 (NIV))
When it takes all that you have to simply survive, look up!
Turn to Jesus for He is the bread of life!
Copyright 1998 – 2022 Dennis J. Smock
Daily Living Ministries, Inc.
http://www.dailylivingministries.org
Support Daily Living Ministries
Subscribe to daily email delivery
Visit us on facebook